Women In Comics Con 2016 Highlights Importance Of Diverse Voices
Women in Comics Con 2016 Highlights Importance of Diverse Voices
by Ray Flook & Alejandra Bodden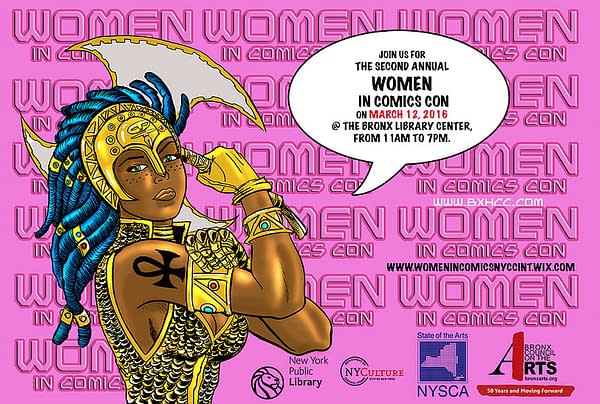 Coming-off the success of last year's inaugural event, Women in Comics Con 2016 returned to NYC this past Saturday with an even stronger focus/emphasis on educating the public on the role and importance of women working within the comic book/multimedia/pop culture industries as well as highlighting their current artistic contributions to the medium. Sponsored by Women in Comics NYC Collective International and Bronx Heroes Comic Con (in conjunction with several city/state agencies) and held at The Bronx Library Center, the day-long convention included panel discussions; screenings; hands-on art & gaming workshops; portfolio reviews; vendors/exhibitors; and an off-site exhibit of some of Will Eisner's classic artwork.
We'll be sharing with you some of our personal highlights (including a great conversation we had with Phil Jimenez) in a later post; but for now, here are some visuals from the event to tide you over…
Ray Flook and Alejandra Bodden have written for Bleeding Cool since October 2013; and you can follow them on Twitter: @oldmangeek88 and @nerdy_faery; on Instagram: @oldmangeek and @nerdyfaery; and at their website: www.oldmangeek88.com.