Wonder Woman #47 Review: Wonder Woman vs. Supergirl is Awesome
Wonder Woman is locked in battle with Supergirl, whom seems controlled by an outside force. She speaks of the Dark Gods and their impending arrival. Diana doesn't want to hurt Kara and is trying to subdue her and hopefully learn something about these alleged Dark Gods. Elsewhere, Jason has solicited the Fates themselves to learn of his destiny and the armor which has attached itself to him.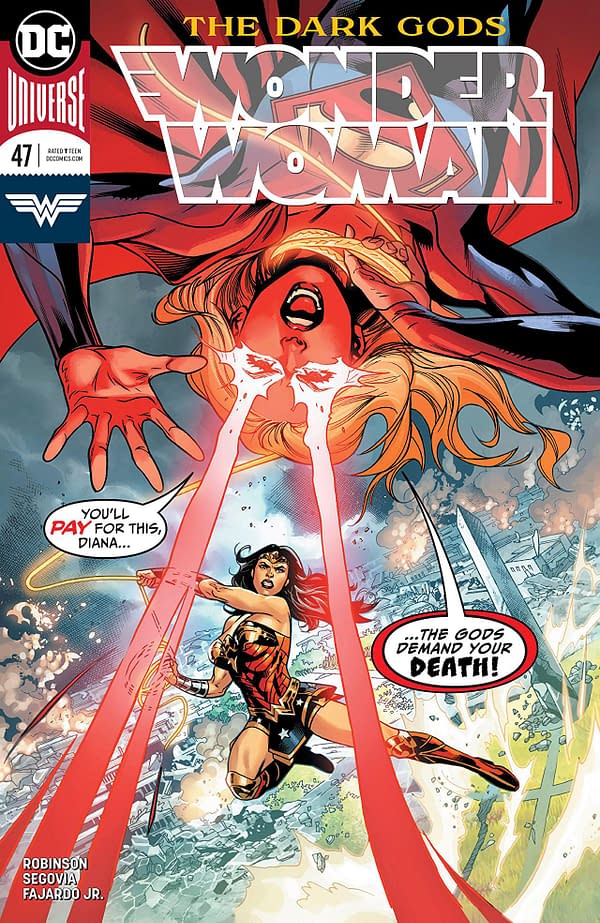 The opening salvo of Wonder Woman #47 is an intense battle between two of the strongest beings on Earth: Wonder Woman and Supergirl. That is undoubtedly pretty awesome, and it's sequenced, scripted, and realized well by James Robinson, Stephen Segovia, and Romulo Fajardo Jr.
It's less clunky than the fight between Diana and Darkseid of a few issues back, thankfully. There are still some moments of questionable scripting—at one point Diana tells Kara that she doesn't know what she's talking about while her thought caption also literally says that she doesn't know what Kara is talking about. Also, Supergirl tells Diana "Run from my eyes," which probably sounded a lot cooler on the script than in the story.
Jason continues his trend of bringing the comic to a grinding halt. He's a truly uninteresting character, so I struggle to care about his conversation with the Fates and the origins of his armor. The fact that we learn his armor was made for Diana is way more meta than I think the comic intended.
The Dark Gods do arrive in this issue, and that scene is pretty damn cool.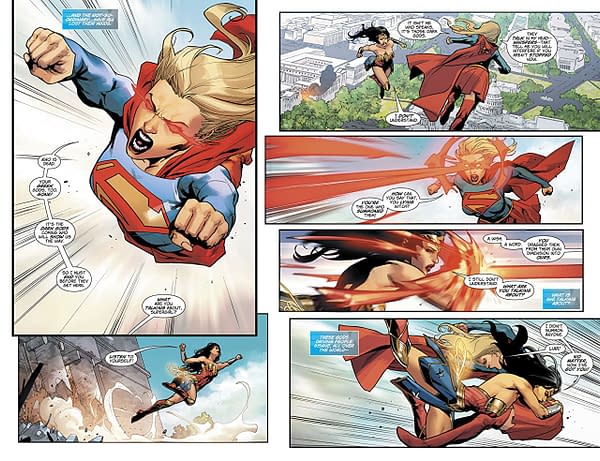 Stephen Segovia's artwork impresses as implied earlier. The fight scene between Diana and Kara looks just as epic as one could hope, and the general construction and detailing of the characters is top notch. Fajardo Jr.'s color art is bright, vibrant, and fitting for a comic about Diana of Themyscira.
Wonder Woman #47 is a fun if slightly flawed comic that has two of DC's strongest duking it out while bizarre gods arrive to wreak havoc upon the Earth. The story is mostly told well, and the artists do not disappoint. This one earns a recommendation. Check it out.