Wonder Woman Annual #2 Review: Sometimes All You Need is a Good Annual
[rwp-review-recap id="0"]
The Star Sapphires have brought Wonder Woman to their base world of Zamaron. While the Dark Gods are in the process of attacking Earth, a different Dark God, called Karnell, has attacked Zamaron and killed many Star Sapphires. Karnell is the Dark God of Love, and he can exploit the weaknesses in the love of others. This is how he was able to kill so many Star Sapphires so quickly.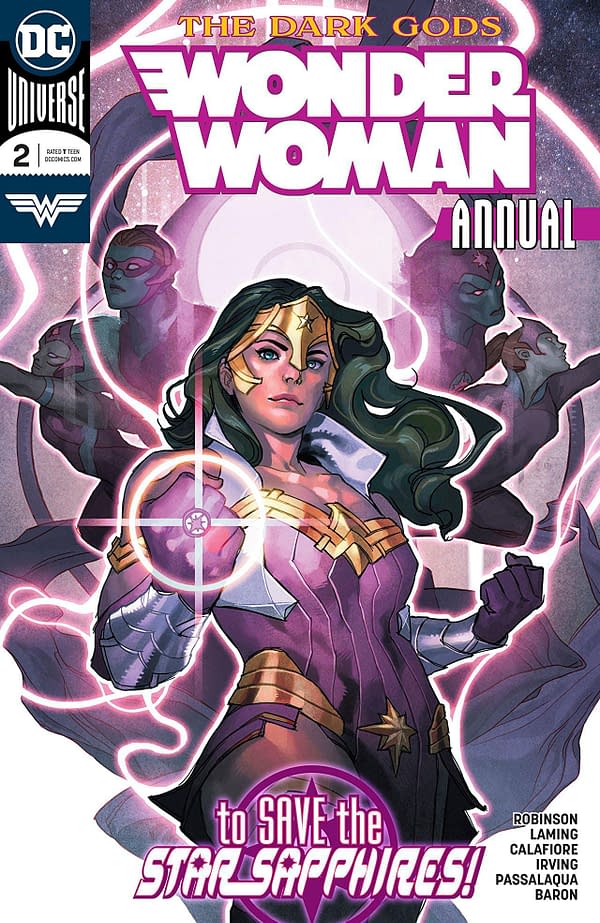 Oddly enough, Carol Ferris isn't in this issue, so don't expect her to make an appearance.
That notable absence aside, Wonder Woman Annual #2 is a solid showing from writer James Robinson and the artists that joined him in this venture. The book has a nice flow to it with a self-contained story. It is somewhat prone to digression, and that does hinder the pacing. Those moments are few and aren't entirely unpleasant.
You could likely call many of the plot points before they arrive. Karnell isn't the most unique of villains, and Diana does use the power of love and the support of the Star Sapphires to win the day.
Despite the brutality displayed in the flashbacks to Karnell's attack on the Star Sapphires, the comic does wander into the realm of borderline saccharine. That said, it is nice to see superhero characters who inherently get along, so it's a bit of a catch-22.
Also, Blackest Night is still apparently in continuity even in DC comics that don't have Green Lantern in the name, so that's neat.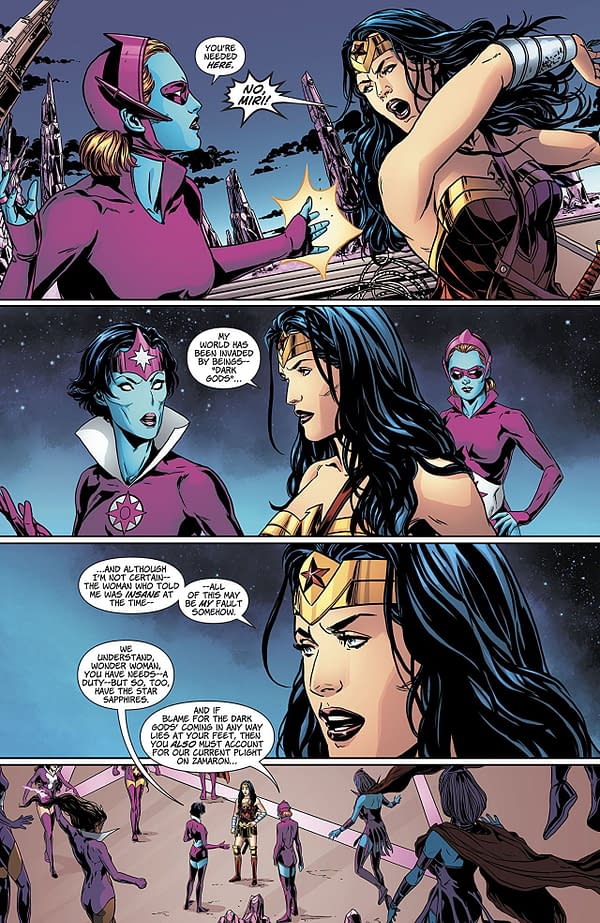 J. Calafiore, Marc Laming, Frazer Irving, and Stephen Segovia split the art for this comic. All do well and have very cohesive art styles outside of Irving, but his scenes are flashbacks or mental landscapes. Irving's sections look simultaneously beautiful and haunting, and they add some extra flavor to the visuals. David Baron, Frazer Irving, and Allen Passalaqua cover the color art, and each contributes good work in this aspect too.
Wonder Woman Annual #2 isn't the most brilliant or surprising comic, but it delivers a fun story that feels special as an Annual should. The slew of artists does excellent work on the visuals, and the comic's finale is satisfying and even a bit heartening. This comic earns a recommendation. Check it out.
[rwp-review-ratings id="0"]
[rwp-review-form id="0"]