Wondercon' 15 -Getting Into Crime With Image Comics Creators Cooke, Robinson, Brubaker And Lapham

By Michele Brittany, West Coast Bleeding Cool Correspondent
Crime creators Darwyn Cooke (Revengeance), James Robinson (Airboy), Ed Brubaker (Criminal), and David Lapham (Stray Bullets) gathered for the Image Comics: Where Creators Own Crime panel, so they could talk shop.
Cooke started off the hour about his new three-issue series, Revengeance, which will be coming soon. It's about a non-violent young man who experiences an event that becomes a catalyst for a philosophical change in thinking. It's dark and some comedy to it. Robinson has been inspired by Ed McBain and he said that he reads the various series that his panel mates write. Brubaker thrives on the crime genre from stories he heard from his father about his uncle who wrote scripts in the 1940s and 1950s. Lapham picked Baltimore for his series because he had spent there as a kid. As to the 8-panel grid, he responded that his weakness is trying to figure out panels, so he went with a straightforward solution. He added that when he has to make changes to panels, it is an easier process.
So who has inspired these amazingly talented individuals. They were tripping over each other to share them: Ed McBain, Ross MacDonald, Donald Westlake, Jim Thompson, and Charles Willeford. Robinson threw in Earl Derr Biggers who wrote about Charlie Chan, and Brubaker added the book series Encyclopedia Brown, written by Donald J. Sobol, and suggested to the audience to watch the film Blast of Silence (1961).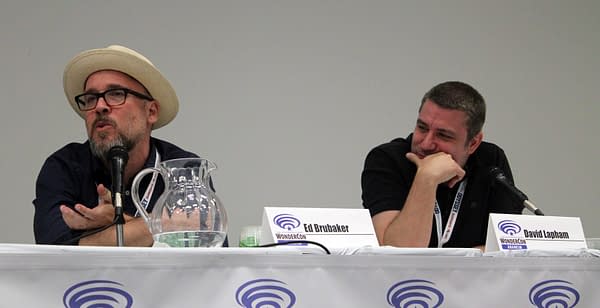 Beyond the crime, what else identified the crime genre? Inevitability. Flawed characters that have imperfections and weaknesses. Raw emotion. Typically, a character will make a decision, which may be the right decision, but in fact it is the wrong one. "Crime is a great way to write about something else," Brubaker said. He added that often the crime is incidental to the other components mentioned. As an extension, Robinson said that architecture is unique in prior eras and can help establish an environment. Cooke, who wrote an early 1960s setting, said "there's an aesthetic" such as the way people dress and the unique looking automobiles. It's important to capture the era of the story because it helps the audience feel like they are there.
An audience member asked the panelists to share their favorite film noirs made within the last 15 years. Cooke said Drifters and The Last Seduction. Robinson said the television series Fargo, while Brubaker said After Dark, My Sweet, Memento, and Drive. Lapham said he just recently watched The Long Goodbye.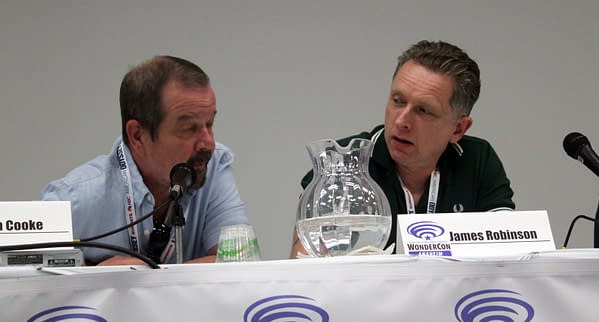 Another person asked what real life crime that they have thought or would like to integrate into a comic book series. Robinson mentioned Albert Fish, a child rapist and cannibal serial killer during the 1920s. And Cooke said there was an art forger during World War II who used the fact that art was being looted as a cover for his forgeries. He was eventually arrested for black marketing (punishable by death) and he had to create a painting in front of the judge and jury in order to prove his innocence.
How do these experts get past writer's block? Cooke, who is a writer and artist, said that if the words are not coming, he will try drawing his way out of the block. Lapham related that his blocks stem from not understanding his characters, so he digs into the character to better know the character and move past the block. Brubaker stated he puts that project away and will pull another one out to work on. And Robinson takes a break and goes to a museum for instance, so he get his mind off of his writing for awhile. He goes back to it later.

One of the last questions of the evening was whether any of the creators, when watching a crime television show, gets story ideas that they incorporate in their own writing. Brubaker, Cooke and Lapham said that while there are many good shows, they didn't use the shows for stories. Cooke explained that the television series are open-ended and the stories he and the other write have an end in sight: "the end of the story is the end of the story."
Michele Brittany is an independent popular culture scholar and semi-professional photographer and editor of James Bond and Popular Culture: Essays on the Influence of the Fictional Superspy (McFarland & Company). She regularly posts reviews and analysis on the spy/espionage genre on her blog, Spyfi & Superspies and can be followed at Twitter @mcbrittany2014.