What Tomorrow's X-Books Tell Us About the Sex Lives of Cyclops, Wolverine, and Marvel Girl [SPOILERS]
Jonathan Hickman's X-Men relaunch has stirred a lot of feelings in the loins of horny X-Men fans, particularly when it comes to the relationship between Scott Summers, Jean Grey, and Wolverine. X-Men #1 revealed that the trio share connected rooms in the Summers family compound on Krakoa, leading to speculation that the three could be Marvel Comics' first throuple.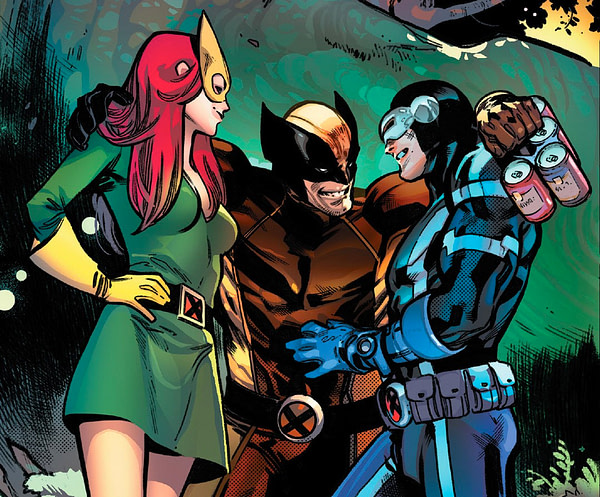 Further investigation by Bleeding Cool has uncovered a vast conspiracy regarding Wolverine's endowment, leading to our belief that Wolverine has two dicks — one for f**king and one for making love — and that he uses one dick to f**k Scott Summers and the other to make love to Jean Grey. It's laid out, after all, in the logo for the new Wolverine solo ongoing…

Which is to say the logo shows symbolizes Wolverine with two dicks, one for f**king Scott Summers' butthole and one for making love to Marvel Girl while Emma Frost finds an icy wall of separation between herself and her former lover, unable to peg him with a purple strap-on because Scott only has eyes for Logan, and only has a tongue for Logan's butthole.

Can you possibly deny it? And this isn't a new theory based purely on HoXPoX and the Dawn of X. It's been right there on the page since at least 2003.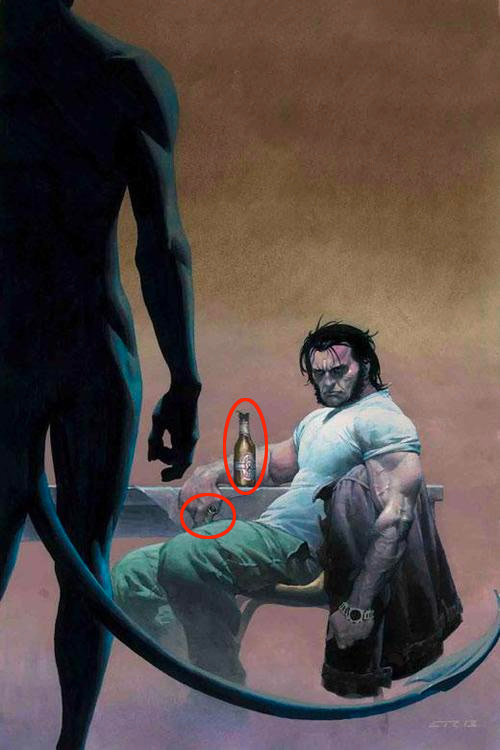 But we aren't the only ones who subscribe to this theory. Wolverine's two dicks won the 2019 Bleeding Cool Clickmas Savior poll as the favorite clickbait topic of you, the readers. And not one but, appropriately, two articles about Wolverine's dicks made the top ten articles read on Bleeding Cool all of last year. This isn't a crackpot theory. Wolverine's two dicks are mainstream.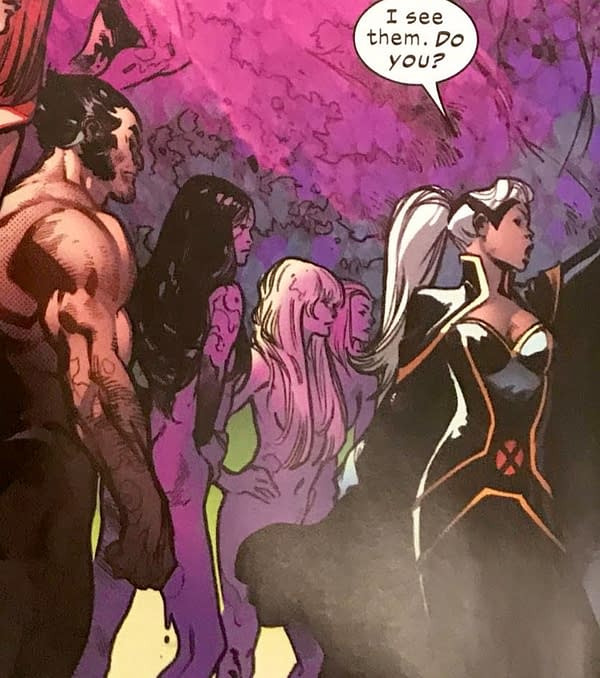 All that's left now is for Marvel to stop being cowards and confirm Wolverine's two-dick status on the page. Are they getting closer to doing that? Here's the latest development from tomorrow's X-Men #7, X-Men/Fantastic Four #2, and Giant-Size X-Men: Jean Grey and Emma Frost #1, in stores tomorrow, but arriving here at ol' Jude Terror's house a day early. Pre-ordering one's comics by mail is usually a tradeoff. A deep discount, for sure, but they often don't arrive until Thursday, Friday, or sometimes even Saturday. Every once in a while, however, they show up on Wednesday, or even a day earlier. Which they did this week. Sorry, Matthew Rosenberg, we're going to have to take Fed-Ex's side in future disputes if they keep this up.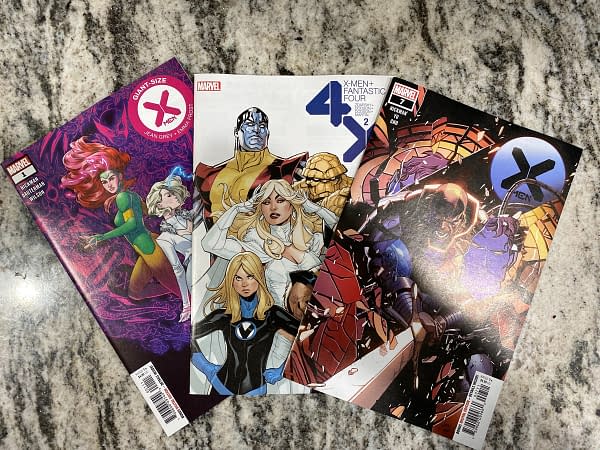 Spoilers below…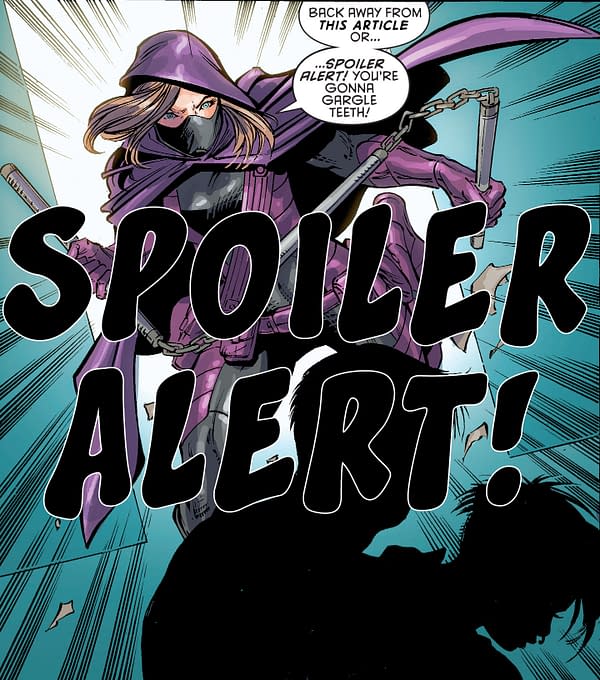 Regarding X-Men #7, we discussed the meaning of The Crucible and the effects of which major Marvel event it strives to undo. But we also got some updates on the sex life of Wolverine, Cyclops, and Marvel Girl in this issue, particularly with a scene between Scott and Logan, lending credence to the belief that the two aren't simply sharing Jean's affection, but engaging in a true three-way relationship. After all, how else would Cyclops know what Wolverine's body hair feels like beneath the covers?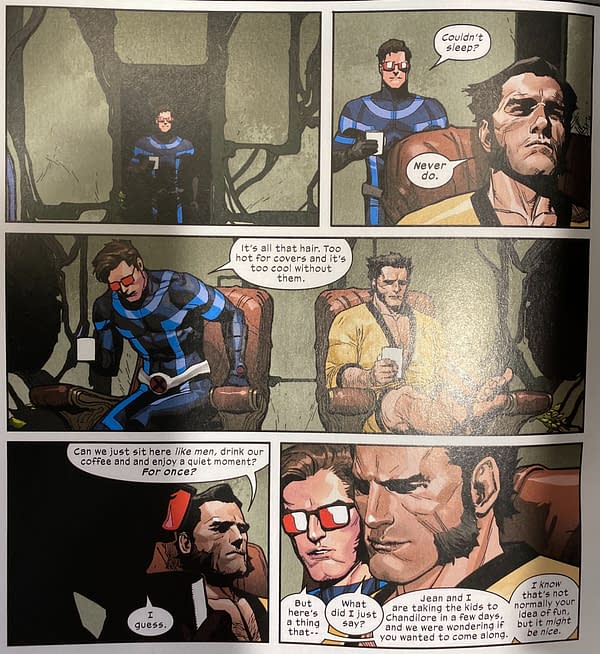 Scott also offers Logan extra incentive to take a vacation as a throuple, hinting at exactly what kind of fun it could be.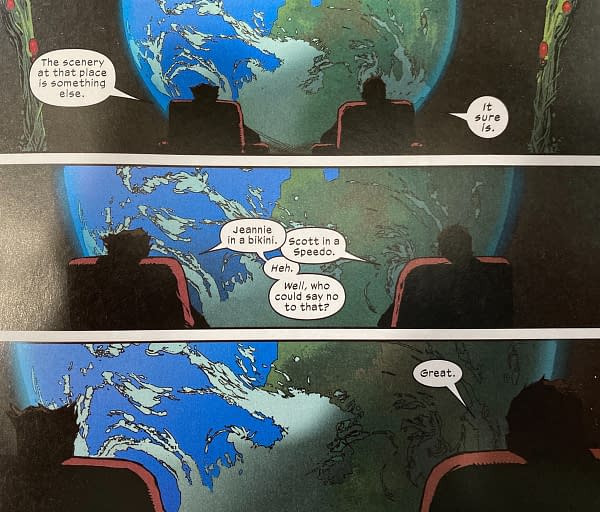 So it's pretty much indisputable fact what's going on here, but how are things faring for Emma? While the X-books thus far have given no indication that these two are back together again, they have been getting a little more flirtatious with each other, and that continues in X-Men/Fantastic Four #2…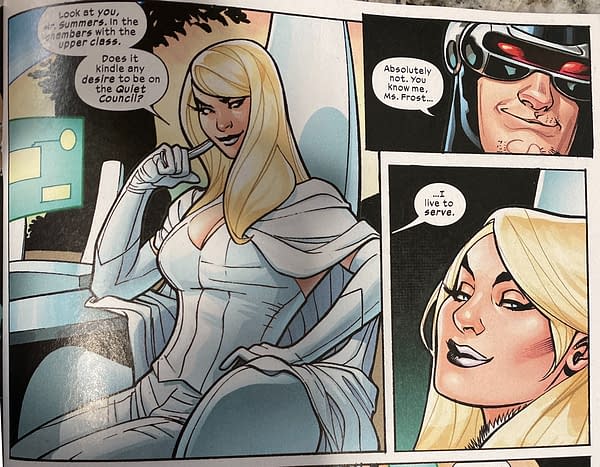 Is that icy wall beginning to melt? And wouldn't a four-way be even more interesting? About that… let's have a look at Giant-Size X-Men: Jean Grey and Emma Frost #1, shall we?
X-Men #7, X-Men/Fantastic Four #2, and Giant-Size X-Men: Jean Grey and Emma Frost #1 are in stores tomorrow.
X-MEN #7 DX
DEC190786
(W) Jonathan Hickman (A/CA) Leinil Francis Yu
MUTANTS ARE FOREVER!
The Resurrection Protocols have changed everything for Mutantkind. NO MORE can humans' hate and fear take their lives from them. But… what ELSE has it changed?
Rated T+
In Shops: Feb 26, 2020
SRP: $4.99

X-MEN FANTASTIC FOUR #2 (OF 4)
DEC190776
(W) Chip Zdarsky (A/CA) Terry Dodson
The world has been re-shaped by the X-MEN. But you can't reshape a world without encountering its true master … DOOM..
Rated T+
In Shops: Feb 26, 2020
SRP: $3.99