Sworn to sell comics for Marvel executives who feared and hated the fact that Fox owned their movie rights, The Uncanny X-Men suffered great indignities, but with a corporate merger on the way, the X-Men can finally get back to doing what they do best: being objectively the best franchise in comics.
Each week, armed with the joy, heartbreak, and frustration of 30+ years of reading X-Men comics, we read every new X-book that comes out, recap the events, provide some back-links to Marvel Unlimited, and wonder when Marvel will let Chris Claremont write something again. Seriously, how do you have the greatest writer in the history of comics on the payroll and just not use him for anything?
It's the way X-Men comics were meant to be read! It's the column that can only be known as…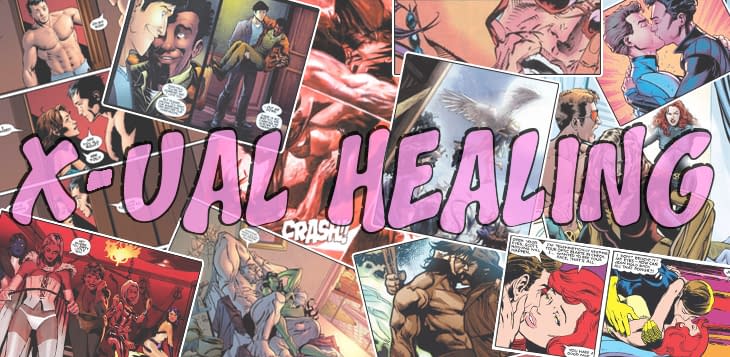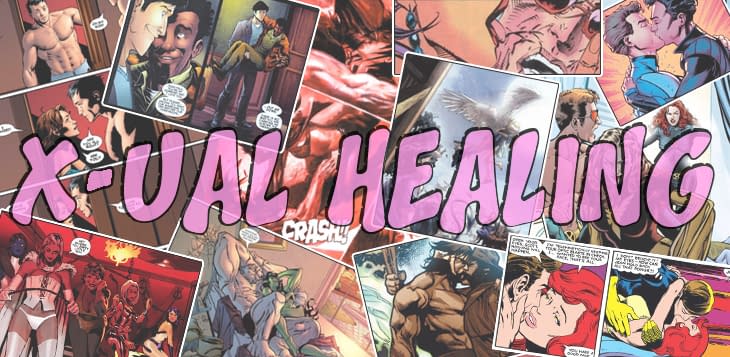 For more about the column, check out the reboot issue here.
---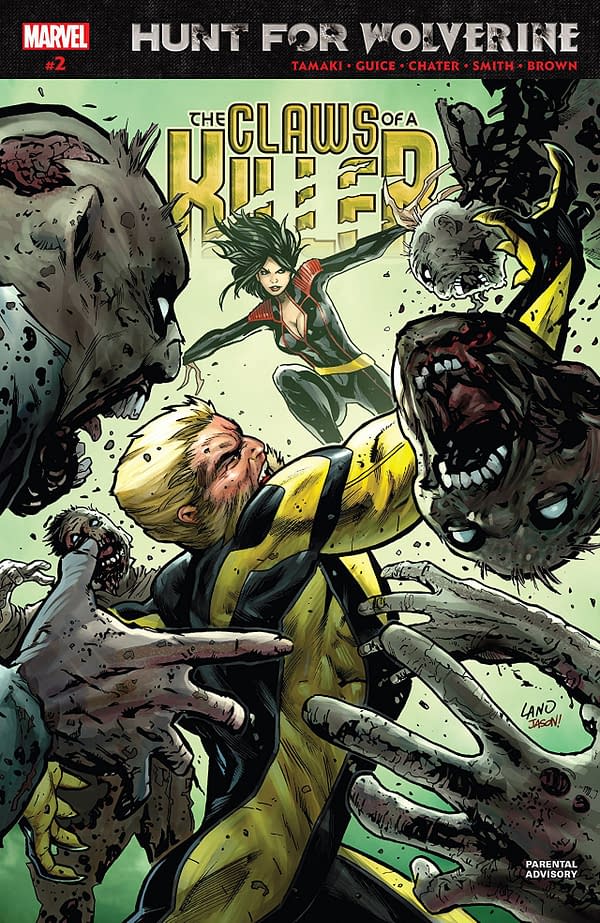 HUNT FOR WOLVERINE: CLAWS OF A KILLER #2 (of 4)
MARIKO TAMAKI (W) • BUTCH GUICE (A)
Cover by GREG LAND VARIANT COVER BY BUTCH GUICE
ZOMBIES, ZOMBIES and EVEN MORE ZOMBIES!
• This is what DAKEN, SABRETOOTH AND LADY DEATHSTRIKE are up against int eh small town of Maybelle…
• …But who is responsible for the grotesque transformation of this peaceful town?
• And what happens when one of our intrepid villains gets bitten?
32 PGS./Parental Advisory …$3.99
---
This issue starts with a flashback briefly explaining the zombie outbreak from last issue, through a series of panels showing Kill Team Nine carrying out an experiment last week killing a town full of people and turning them into zombies. The reports show a "cognitive defect" — that's the whole flesh-eating zombie thing, presumably — exists in all the subjects. As we learned last issue, it appeared to be Wolverine that set things in motion by activating the device that zombified the town, but that was just the premise to get us to this Wolverines vs. Zombies action.
In the present, Kill Team Nine guns down a restaurant full of zombies to take possession of the incapacitated Daken. Outside, Sabretooth and Lady Deathstrike have some interactions that seem completely out of character with how they act in Weapon X. Sabretooth wants to leave the town, but Deathstrike is sure Wolverine is there. Zombies attack, and Sabretooth gets bit. The bite isn't healing. They run from the zombies and try to leave town (leaving Daken behind), but their car blows up. Meanwhile, Daken wakes up as a prisoner in the building with the zombie device. He busts out and is about to kill Kill Team Nine. Isn't it ironic? Dontcha think?
With the car gone, Sabretooth decides to run for it. He takes shelter in a garage and refuses to help Deathstrike make it under the door before it closes, forcing her to dive for it. He suggests she's responsible for all of this (makes no sense) and threatens to kill her if so. Meanwhile, Daken stabs a member of Kill Team Nine and dives out the window.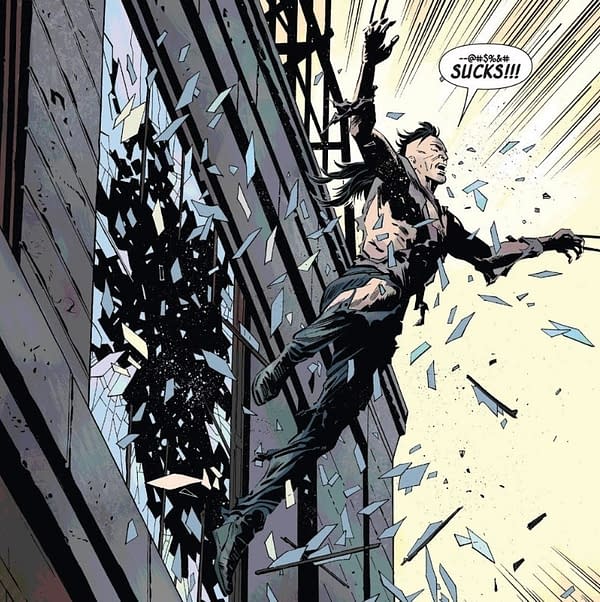 Daken, there are worse things than being stuck in a blatant cash-grab mini-series event. You could be stuck in the one with Daredevil.
---
The Bottom Line
It's not that we have an issue with a mindless zombie action comic milking the return of a character killed just a few years ago. Marvel's gonna Marvel. We get it. But it's constantly jarring that Sabretooth is seemingly a totally different character than he is in Weapon X.
---
Further Reading
You could read the current Weapon X series so you can be as baffled as we are.
Read more X-ual Healing here: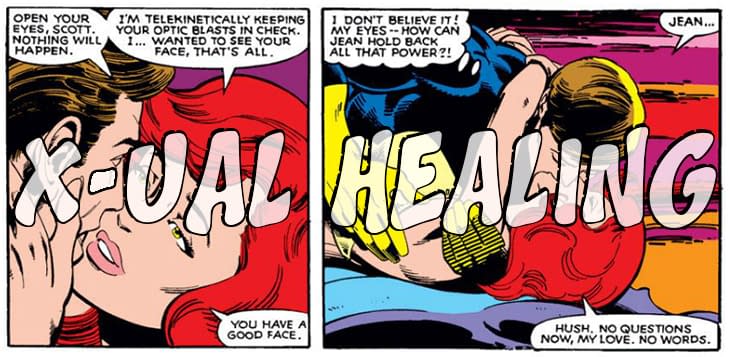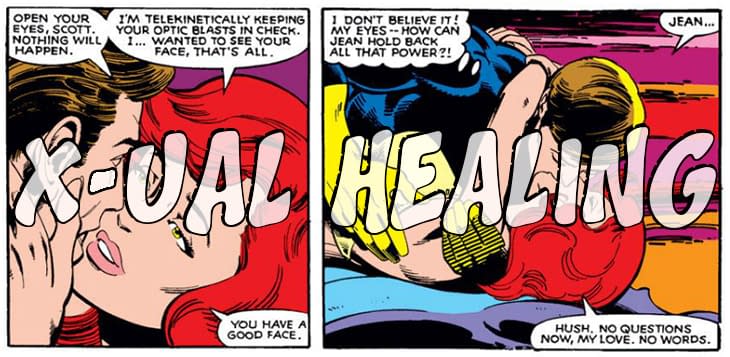 Enjoyed this article? Share it!