Posted in: Comics | Tagged: marvel, x-men, x-men red, X-ual Healing - The Weekly X-Men Recap Column
---
X-ual Healing: The X-Men Decide It's Better Down Where it's Wetter in X-Men Red #4
Sworn to sell comics for Marvel executives who feared and hated the fact that Fox owned their movie rights, The Uncanny X-Men suffered great indignities, but with a corporate merger on the way, the X-Men can finally get back to doing what they do best: being objectively the best franchise in comics.
Each week, armed with the joy, heartbreak, and frustration of 30+ years of reading X-Men comics, we read every new X-book that comes out, recap the events, provide the historical context so you can read it on Marvel Unlimited, and wonder when Marvel will let Chris Claremont write something again.
It's the way X-Men comics were meant to be read! It's the column that can only be known as…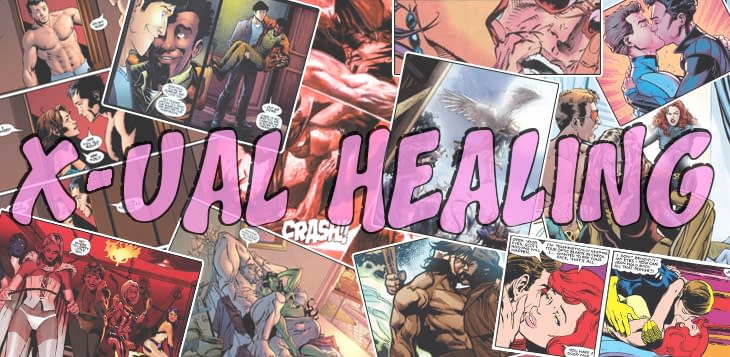 For more about the column, check out the reboot issue here.
---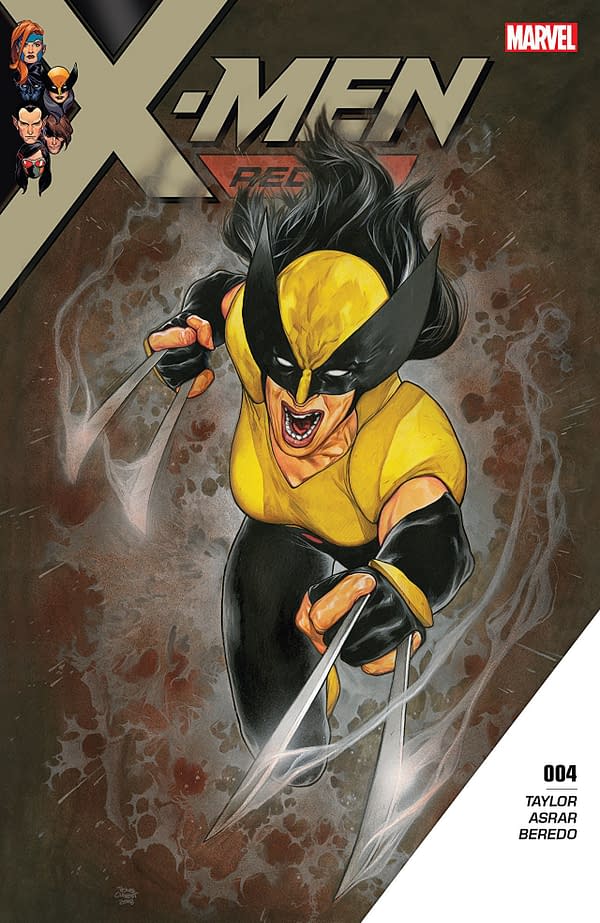 X-MEN RED #4
TOM TAYLOR (W) • MAHMUD ASRAR (A)
Cover by Travis Charest
Headshot Variant Cover by TRAVIS CHAREST
DEADPOOL VARIANT COVER BY BRENT SCHOONOVER
• JEAN GREY and her team of X-Men are trying to save the world…but one mutant could spoil that for everyone.
• When an old friend of Jean's is corrupted and turned against her, will Jean have to do the unthinkable?
32 PGS./Rated T+ …$3.99
X-Men Red #4 wastes no time, kicking off right where the previous issue left us. The X-Men Red team was on their way back to Wakanda riding a sentinel controlled by new team member Trinary when they were stopped by Storm, who is under the control of Cassandra Nova. Storm knocks them out of the sky with a lightning bolt. Jean lets Storm think she's won, forming a telekinetic bubble around the team so they can breathe as the sentinel crashes into the water. The creative team misses an opportunity here to have Jean explain the way her power is doing this. It's not that it's hard to figure out she created a telekenetic shield around everyone, but a new reader picking up an X-Men comic for the first time might want to know.
Jean senses that there's something wrong with Storm (you think?) and says Storm is heading to the capital city, where team member Gentle and lots of innocent people are waiting. Jean doesn't name the Wakandan capital. She just says "the Wakandan capital." Want to bet she doesn't know what the capital of Wakanda is?
On the outskirts of Birnin Zana (omega-level telepathy has nothing on Wikipedia), Gentle runs off into the jungle, sensing danger approaching. Black Panther joins him, greeting his one-time wife. Storm sweeps him away, concerned only with mutants. When Jean arrives, Storm calls her an abomination.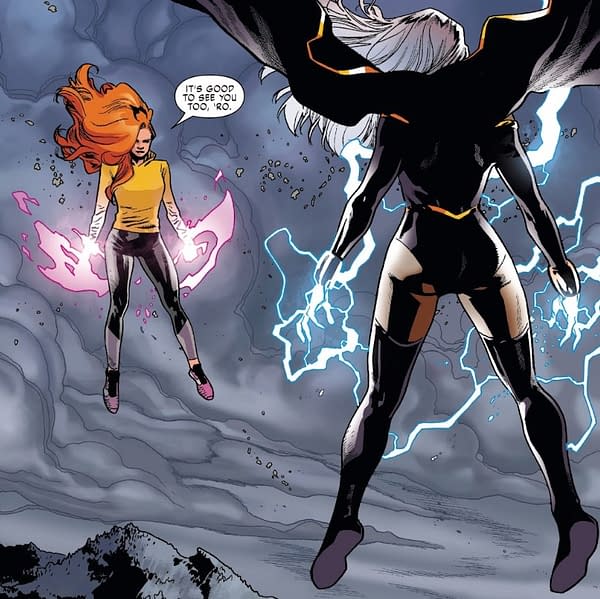 As the other X-Men arrive on the sentinel, Gentle hulks out. His powers hurt and harm him when he uses them, so you know he means business. Jean removes Cassandra Nova's directive to kill the X-Men from Storm's head, but that only causes Storm to recognize herself as a mutant, calling down a lightning bolt on herself. Has Storm become a Sentinel? Gentle jumps on top of her to block the lightning bolt, which knocks both of them out. Jean, the Panther, and the other X-Men bring Storm to a lab to examine her brain and catch Jean up on the Storm/Panther marriage via X-pository dialogue since she was dead while it happened.
They find a nanite in Storm's brain, too small to remove. Luckily, Trinary's power is to talk to and control machines. Jean links her mind with the Panther and Trinary, and the book makes up for that earlier slip-up with a full-on Claremontian explanation of what she's doing with their powers. We knew X-Men Red wouldn't let us down!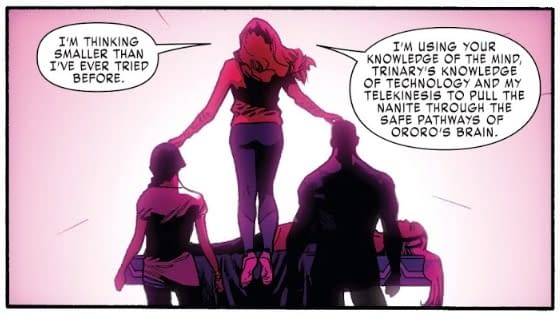 Together, they get the nanite out and unload another healthy dose of X-position. The nanite was acting like malicious forces use the internet, zeroing in on people's fear and hatred and exploiting it, essentially turning them into mutant-killing sentinels. Jean connects the presence she sensed in Storm's head earlier with the one in the mind of the British Ambassador whose head exploded back in X-Men Red #1. The X-Men must leave Wakanda lest they put the country in further danger. They decide to take shelter in Atlantis.
Namor gives Jean a tour around the X-Men's new undersea base, built in sunken ruins enhanced with Atlantean technology. Trinary hands out the teams new costume under the pretense that she and the Wakandan scientists cobbled special suits together to protect the team from the nanite sentinels. Honey Badger teases Namor about his sexy fishman body while Jean assures Gentle that his place is with this new X-Men team (while delivers some final X-position about his powers and how the X-Men might help him control them). The team is shaping up nicely…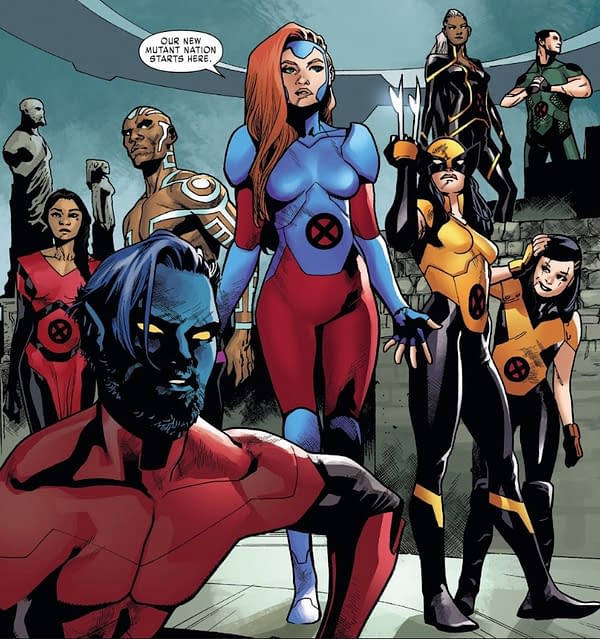 Time for a bad guy/girl/person update. Cassandra Nova visits world leaders around the globe, hoping to convince them to sign onto an anti-mutant, and particularly anti-Jean Grey, agenda. She brings out Forge, who she apparently holds under mind control. Forge is the one who made the nanite sentinels, because of course he was. Forge presents a box containing the sentinels, but when the leaders open the boxes, the sentinels install themselves in the leaders' minds. That's not good. The issue ends with one of the leaders killing his own general, who turns out to have been a mutant.
---
The Bottom Line
X-Men Red keeps getting better and better, as do the X-Books as a whole. Maybe it's the competition since there are so many of them? Either way, the team has an great dynamic, they're facing a monumental threat, the twists and turns are satisfying, and we'd read an ongoing monthly comic that was just Honey Badger teaming up with Namor. It's not the worst time in history to be an X-Men fan, is what we're saying.
This was a tough decision to make, because there's a book out this week with a story by Chris Claremont in it, and there's also the finale of All-New Wolverine, which has been an amazing run, and either of those books could have taken the award this week. But the point of the Wolverine's Weiner X-Pick of the Week is to celebrate the X-Book that left us with the satisfied feeling reminiscent of a belly full of grilled meat products on a hot, shirtless day, and if we're being honest, that book this week was X-Men Red #4.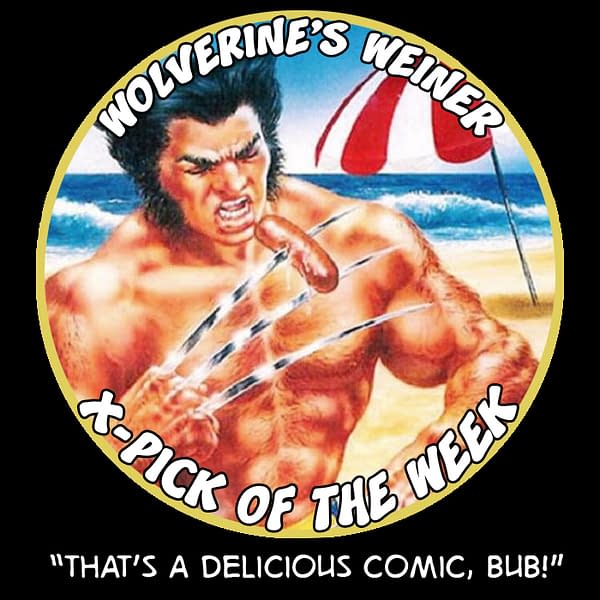 Congratulations to the creative team!
---
Further Reading
Want to know more about Storm and Black Panther? The two first met in Marvel Team-Up #100, which is available on Marvel Unlimited, but it takes place in a backup story and only the lead story is on the site. Not cool, Marvel. They do this with Marvel Comics Presents as well. Want to buy it? The lowest price we see right now on MyComicShop (our favorite online store for back issues) is $16.
In any case, that story was retconned in the 2006 Storm mini-series, and that is available on Marvel Unlimited.
Storm and Black Panther got married in the 2005 Black Panther series, in the final chapter of the story arc that begins here on Marvel Unlimited.
They broke up during the Avengers vs. X-Men super-mega-crossover event, which was a dark stain on the history of the X-books for many reasons, mostly driven by Marvel's desire to position the X-Men as inferior to franchises for which Marvel owned the movie rights. But you can still read it on Marvel Unlimited.
Read more X-ual Healing here: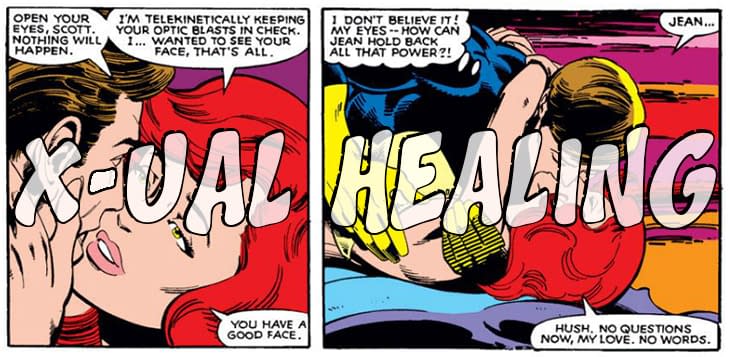 ---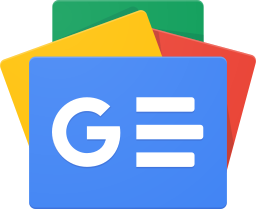 Stay up-to-date and support the site by following Bleeding Cool on Google News today!