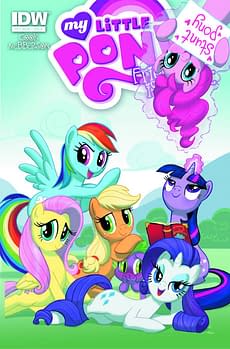 IDW's reported solicitations list Katie Cook as the writer of My Little Pony #5, out in April.
But it's not! It's actually Heather Nuhfer, who wrote Archaia's Fraggle Rock, How to Train Your Dragon for Ape as well as the upcoming Sesame Street comic, the Dragons: Riders of Berk cartoon and the upcoming Strawberry Shortcake show.
So, you know, she's had a bit of practice in this kind of thing. Amy Mebberson will be the new artist…. with Heather Breckel on colours.
Can't Amy change her name? Then we could have a My Little Pony/Heathers crossover… and wouldn't the bronie just love that?
Enjoyed this article? Share it!