You Can Have My Back: Yen Press to Publish BL Fantasy Light Novel
Yen Press has announced it will publish the Boys Love light novel You Can Have My Back, best known for its beautiful illustrations and heartbreaking drama, for its Yen On imprint in 2023.
---
Yen Press announced an acquisition joining its Summer 2023 lineup: You Can Have My Back, a Boys Love fantasy light novel best known for its beautiful illustrations and heartbreaking drama. With Boys Love light novels having seen few releases in English, You Can Have My Back is a welcome and refreshing addition to the Yen On imprint.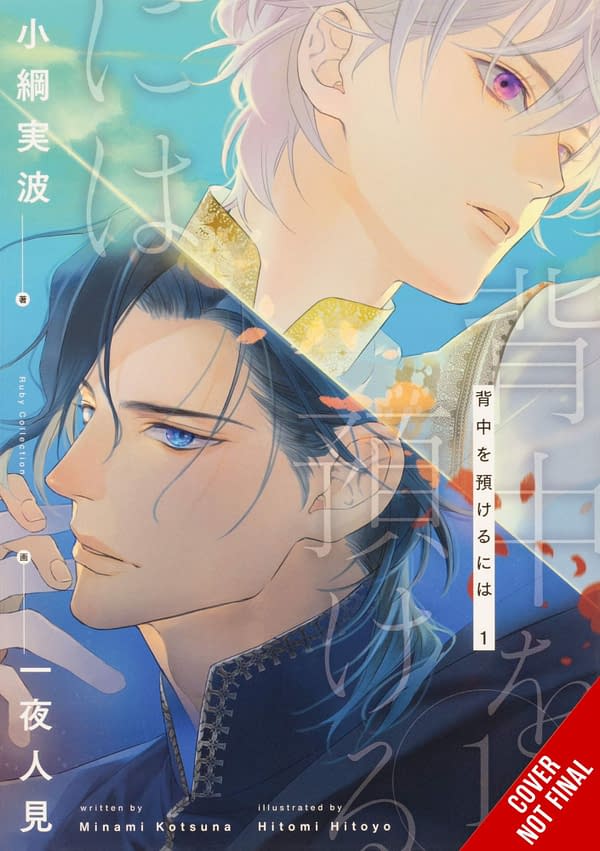 You Can Have My Back
Original Story by Minami Kotsuna
Illustrated by Hitomi Hitoyo
Leorino, the fourth son of a margrave and blessed with the face of an angel, is the reincarnation of Ionia, a knight of the kingdom who died in the line of duty. At night, he dreams of his past life, his ill-fated love for Prince Gravis, and his death at the hands of an enemy agent. But when he confronts the traitor as Leorino, he ends up arrested instead! His life in danger, he shouts the name of an old friend and his only hope…
The Boys Love (BL) genre, which features romances between bishonen (translation: beautiful boys), mostly in the form of flirting and kissing, is a popular genre across Asia that began officially in Japanese manga but has since spread to Korean comics and even Chinese online serialized light novels and comics. The primary audience for Boys Love stories tends to be female, and the writers and artists are also usually female. It often intersects with slash fiction, the subset of fan fiction based on popular shows and books that feature male characters from those series in romances with each other, as you might find on A03, aka Archive of Our Own.
Yen Press is happy to add to its growing catalog of Boys Love titles, which includes the bestselling manga Sasaki and Miyano and its upcoming spin-off novel Hirano and Kagiura. You Can Have My Back, Vol. 1 will be available in print and digital in July 2023.