Death Metal and Young Justice Throw Exposition At The Many Crises
Of late you haven't been able to move without DC comics characters realising that Crises have happened within their continuity, resetting their lives, rewriting them, deleting them and even restoring them. Whether it's Superman and Lois Lane having contradictory versions of their own lives co-existing with each other. Or future Batmen avoiding being other versions of their future. Barry Allen remembering Wally West. Wally West being remembered by his family. The Titans remembering having been Teen Titans. Dr Manhattan seeing how the 'meta-verse' keeps resetting around Superman and doing it one more time to bring his parents back. People remember Connor Kent, Bart Allen, Tim Drake and more.
In today's Young Justice, it's Bart Allen, Impulse who leads the assault. And it looks as if Wally West has been filling him in.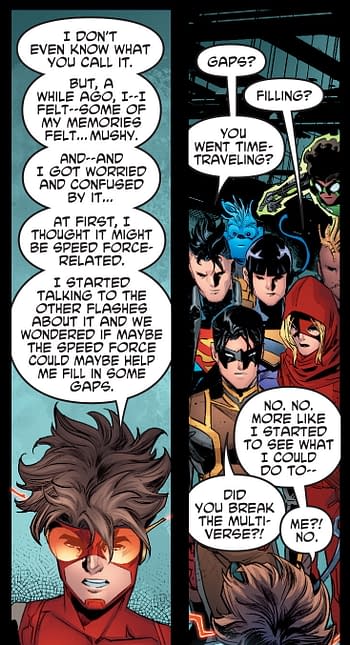 As Bart does his very best Basil Exposition impression.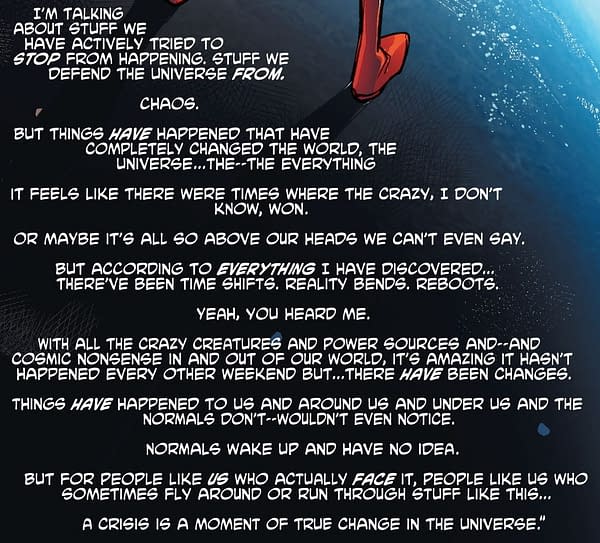 So he sees the Crises that have impacted the DC Universe as examples of chaos, of change. Hold that thought.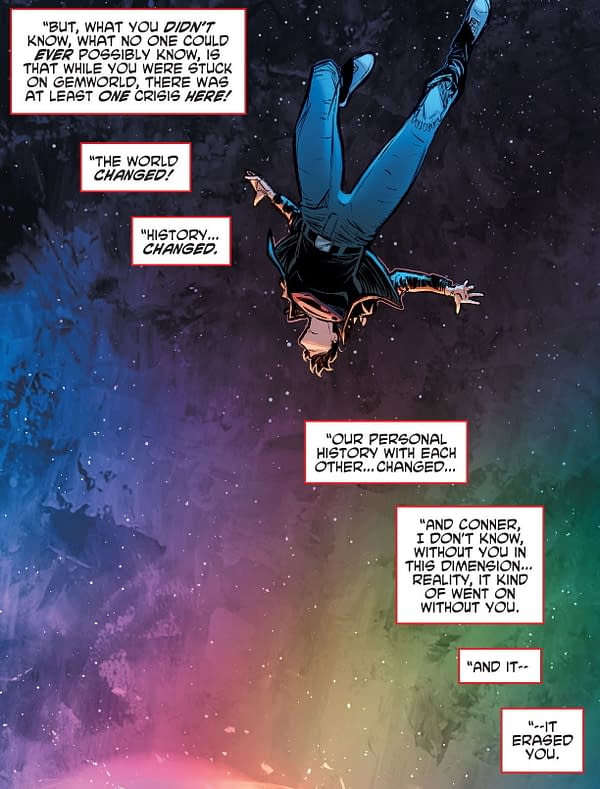 And how Conner Kent was caught in the jetstream of such a change. But now that he is on the DC Universe, just as Ma and Pa Kent were returned by Dr Manhattan, so they now have a memory of Conner as well.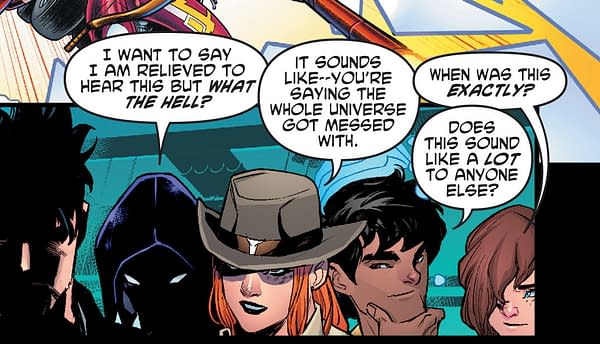 There's more besides this and secrets are still being kept. But that idea about Crisis meaning Chaos? Well today's Dark Nights: Death Metal #1 picks up on that just as we said it would. With Wally West, now with the powers of Dr Manhattan narrating the world, or worlds, as he sees it.
Defining Crises as chaos, as anti-life, while the embracing of all versions of reality – everything matters – as a rallying cry for the comics industry to embrace all aspects of comic book creation.
With Dr Manhattan mentioned by name for the first time in the DCU outside of Doomsday Clock, and now tying it into Justice League continuity as well. Which makes utter nonsense of whatever aspects of DC continuity people were still grasping onto with their fingertips – but the comic says to let go. It doesn't matter – or rather, everything matters. It all happened.
And as the heroes try and get outside of the Batman Who Laughs' version of the Heist-O-Tron, we get a reversed Watchmen button from another Dark Dimension… that happened too.
YOUNG JUSTICE #15
DC COMICS
FEB200507
(W) Brian Michael Bendis, David F. Walker (A/CA) John Timms
Young Justice versus S.T.A.R. Labs! What happens when a universe reboots right under you? Conner is about to find out! The entire Young Justice team confronts the evil genius behind S.T.A.R. Labs and the truth about Conner Kent. This will bring Conner to the doorstep of his namesake, Clark Kent, to find out more about himself and the DC Universe. Guest-starring Superman in a unique crossover with Action Comics.In Shops: Jun 17, 2020 SRP: $3.99

DARK NIGHTS DEATH METAL #1 (OF 6)
DC COMICS
MAR200477
(W) Scott Snyder (A) Jonathan Glapion (A/CA) Greg Capullo
Get ready for the earth-shattering encore! The legendary team behind Dark Nights: Metal and Batman: Last Knight on Earth take center stage and reunite for one last tour. When the Earth is enveloped by the Dark Multiverse, the Justice League is at the mercy of the Batman Who Laughs. Humanity struggles to survive in a hellish landscape twisted beyond recognition, while Batman, Wonder Woman, and Superman have all been separated and fight to survive. Unleash the beast and let the head banging begin! In Shops: Jun 17, 2020 SRP: $4.99