The Future Of The DC Universe – According to Doomsday Clock #12 (Spoilers)
No, we don't find out how Alfred Pennyworth is alive. No, we don't get to find out what actually happened with Saturn Girl. Nor what Adrian Veidt was really playing at. But you may be able to work out why the events of Doomsday Clock, especially the Supermen Theory, haven't played large in the DC Universe.
One of the big moments in previous issues of Doomsday Clock was when Dr Manhattan discovered that time was malleable. In the world of Watchmen, time and space worked like clockwork. The movements could be observed but were fixed. Moving to the DC universe, Manhattan discovered a timeline that was malleable, one change here changed everything, it kept changing, and it all seemed based around Superman's changing life, jumping decades. It reflected the publishing decisions of DC Comics, but all Manhattan could see where the changes. And he made changes too, getting rid of the Justice Society and causing a wave of changes.
Here are a few semi-spoilers, but we'll leave the big ones for you to pick up. Because in Doomsday Clock #12, we see that at play again but also look to the future of the DC Universe. There's a lot of that going on today.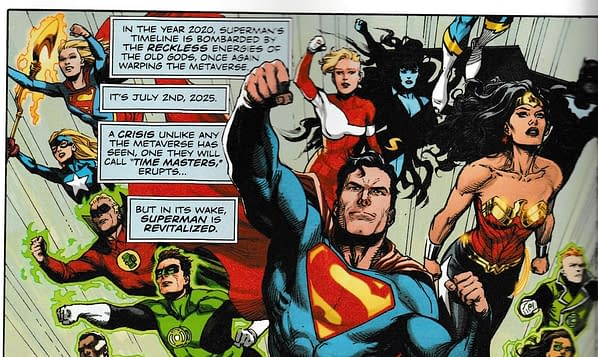 So next year we get the Old Gods. We are getting a new Crisis in 2025, called The Time Masters. That's Bob Wayne's old comic, last revived in 2010 and used for DC's Legends Of Tomorrow. Coincidentally, over in today's Hell Arisen, we get this scene…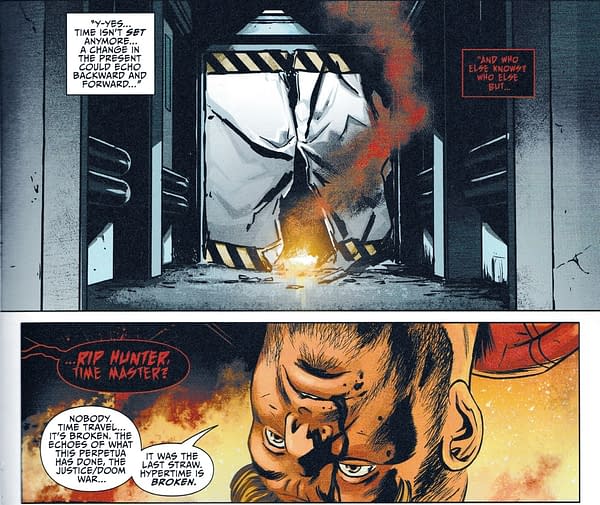 Rip Hunter, the Time Master himself… back in Doomsday Clock, we get to see the effects of some of these changes.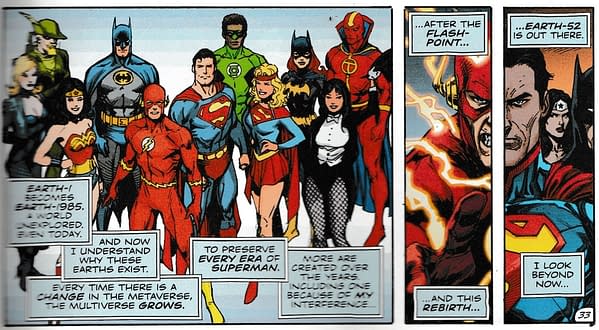 And giving us a new Pre-Crisis timeline called Earth 1985. And the preservation of the New 52 Earth. And we get the first mention of something Bleeding Cool first heard about back in June.

So we have Earth 5G. But rather than what we were told, that it is only happening in six years, we can now see that this is when 5G will be undone with a new timeline, but the 5G universe preserved, just like all the others. A Secret Crisis to follow with… Thor and a Green Behemoth stronger than Doomsday? Is that a Superman/Hulk crossover being prepared for in ten years time? But its job here is to show that Superman's timeline will continue to be malleable, allowing for stories to be told into the far, far future. And one change made now…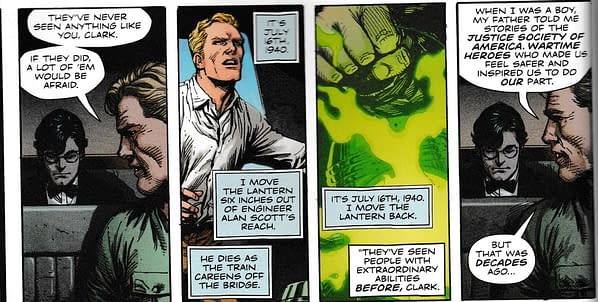 Restoring the Justice Society of America restores the Legion Of Super-Heroes and…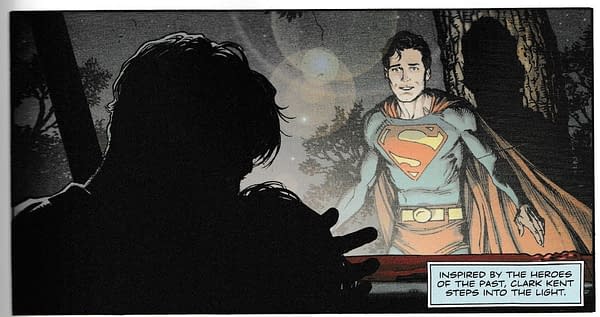 …. and a pre-Metropolis Superboy. A Legion Of Super-Heroes that knew him then (contradicting the current Legion book (again)). And also letting Ma and Pa Kent live on… just as Matt Fraction teased, and as we may be meeting in the upcming Heroes book.
Some of these changes will be easy to slot into current DC Comics continuity and have been prepared for. Others are going to need a massive hammer. And there is irony in that the same problems caused to continuity after the first Crisis On Infinite Earths, Man Of Steel, Superboy and the Legion, again come back to throw their kryptonite spanner into the mixture. Talking of the Legion, they seem aware of the possible confusion in Legion Of Super-Heroes #2 also out today…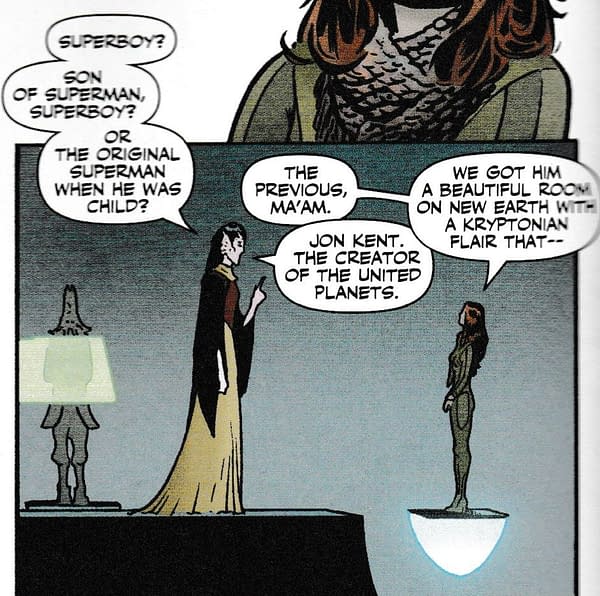 And how is Jonathan Kent coping away from this timeline? Won't he miss seeing the new Star Wars with Damian?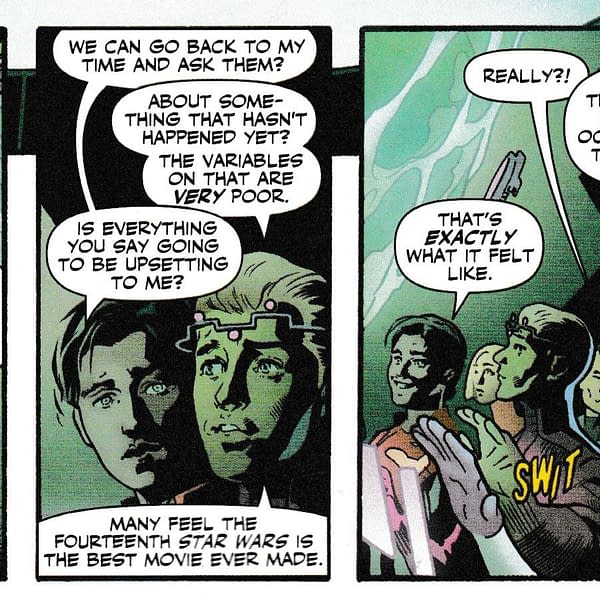 DOOMSDAY CLOCK #12 (OF 12)
(W) Geoff Johns (A/CA) Gary Frank
This is it! The final showdown between Dr. Manhattan and Superman shakes up the DC Universe to its very core! But can even the Man of Steel walk out from the shadow of Manhattan?In Shops: Dec 18, 2019
SRP: $5.99

LEGION OF SUPER HEROES #2
(W) Brian Michael Bendis (A/CA) Ryan Sook
It's been one thousand years since anyone has seen the oceans of the Earth, but with Aquaman's original trident recently discovered, a chase to control Earth's future tears across the galaxy. All this and the reunion you'd never thought you'd see! Another DC sci-fi epic into the far-flung future like you've never seen before!In Shops: Dec 18, 2019
SRP: $3.99
Doomsday Clock #12 by Geoff Johns and Gary Frank, and Legion Of Super-Heroes #2 by Brian Bendis and Ryan Sook are both published today from DC Comics. I bought mine from Piranha Comics in Kingston-Upon-Thames. Piranha Comics is a small south London comic store chain with a small south-east store in Kingston-Upon Thames's market centre, which runs Magic The Gathering nights on Fridays, and a larger south-west store in Bromley, which also runs Magic nights and has an extensive back issue collection and online store. If you are in the neighbourhood, check them out.

---
---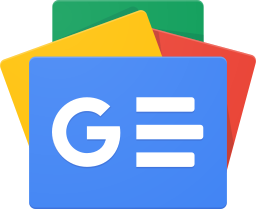 Stay up-to-date and support the site by following Bleeding Cool on Google News today!