Zoom, Saul and Superman – The Daily LITG 14th April 2020
These are strange times, but The Daily LITG is becoming a valuable way to quantify just what comic book geek culture is being absorbed in this time of trial. Also, to make sure that you don't miss what everyone else is reading. Right now that means, Zoom backgrounds, Better Caul Saul and Michael Davis' use of the Death Of Superman to illustrate the current comics situation, as well as news and rumour from what DC and Diamond are up to. Welcome all, to the daily Lying In The Gutters a long-running run around the day before and the day ahead. You can sign up to receive it as an e-mail here.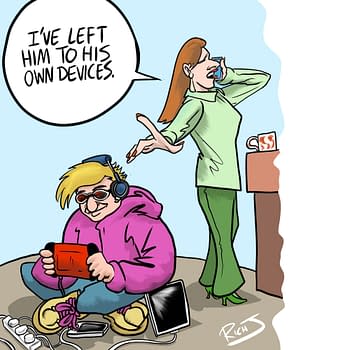 Zoom, Saul and Superman – the 10 Most-Read Stories Yesterday
People are loving those DC, Marvel and Batman Zoom backgrounds. However, in more substantial articles, it's all about bringing the direct market back. Bleeding Cool will be continuing to cover the impact of the current situation on the comics industry with this tag. Oh and Boris Johnson, now out of intensive care has been reading Tintin comics in bed and thanking his nurses by name. I thought that deserved commemorating.
When Rob Liefeld Offered John Byrne $150,000 an Issue to Draw Supreme, and more from one year ago
We do find it fun when stories from the past emerge in a way that makes us blink and wonder what just happened. Such a the kind of day when Rob Liefeld could make such an offer to John Byrne – and Byrne could turn it down…
Comics News & Events Happening Today
There would also have been signings, appearances, symposia, all manner of comic book-related events. But a few have gone online, and here are some still happening today.
Comics Industry Birthdays Today
There may not be much of a party atmosphere right now. Or if there is, the police will come and shut you down. But comic folk are still getting older and still celebrating that special date. And it's a big day for comic creator birthdays – Gibbons, Gerhard, Clowes and Dixon all on one day?
Dave Gibbons, of Kingsman, Watchmen and The Originals
Richard Emms, of Limited Comics
Christopher Gutierrez of 4am Friends
Sheli Crabtree, artist at Comic Petals
Travis Gibb, writer of Broke Down & Four Dead Bodies
Miceal Celtwriter, comic book translator and adapter.
GM Jordan, comics editor
Chuck Dixon, writer of Airboy, Batman and Punisher, creator of Bane.
Gerhard, artist on Cerebus
Dan Clowes, creator of Eightball
Interested in WWE diagnosis, Zoom backgrounds, bringing back the direct comics market or anything else? Subscribe to our LitG Daily Mailing List. And we'll see you here tomorrow.