Ubisoft released Just Dance 2020 today, and with the game, the company has released the entire song list for you to jam out to. Along with the return of Co-Op Mode, the game has a more personalized experience as well as All-Stars Mode. The latter being a journey across the galaxy to unlock unique songs. Enjoy the full song list and the trailer.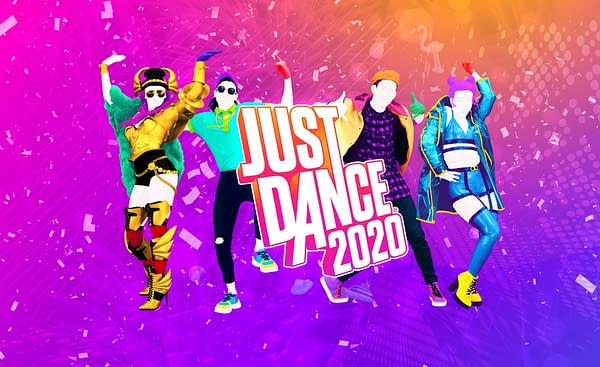 The new Just Dance 2020 tracklist includes:

I Don't Care – Ed Sheeran & Justin Bieber
Old Town Road (Remix) – Lil Nas X Ft. Billy Ray Cyrus
7 rings – Ariana Grande
Taki Taki – DJ Snake Ft. Selena Gomez, Ozuna, Cardi B
bad guy – Billie Eilish
Kill This Love – BLACKPINK
I Like It – Cardi B, Bad Bunny & J Balvin
Talk – Khalid
High Hopes – Panic! At The Disco
God Is A Woman – Ariana Grande
Con Altura – ROSALÍA & J Balvin Ft. El Guincho
Con Calma – Daddy Yankee Ft. Snow
The Time (Dirty Bit) – Black Eyed Peas
Soy Yo – Bomba Estéreo
365 – Zedd & Katy Perry
Rain Over Me – Pitbull Ft. Marc Anthony
Everybody (Backstreet's Back) – Millennium Alert
FANCY – TWICE (트와이스)
Into the Unknown – Disney's Frozen 2 (available on November 22***)
Baby Shark – Pinkfong
Keep In Touch – JD McCrary
Get Busy – KOYOTIE
Só Depois Do Carnaval – Lexa
MA ITŪ – Stella Mwangi
I Am the Best (내가 제일 잘 나) – 2NE1
Skibidi – Little Big
Bangarang – Skrillex Ft. Sirah
Bassa Sababa – Netta
My New Swag (我的新衣) – VAVA Ft. Ty. & Nina Wang
Just An Illusion – Equinox Stars
Stop Movin' – Royal Republic
Tel Aviv – Omer Adam Ft. Arisa
Ugly Beauty (怪美的) – Jolin Tsai (蔡依林)
Vodovorot – XS Project
Bad Boy – Riton & Kah-Lo
Sushi – Merk & Kremont
Policeman – Eva Simons Ft. Konshens
Fancy Footwork – Chromeo
Fit But You Know It – The Streets
Le Bal Masqué – Dr. Creole
Always Look on The Bright Side of Life – The Frankie Bostello Orchestra
Infernal Gallop (Can-Can) – The Just Dance Orchestra
Enjoyed this article? Share it!