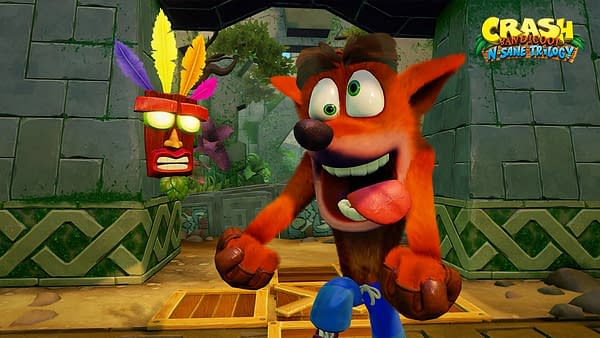 After adding Crash Bandicoot to Skylanders last year and announcing a remastered collection of the original Bandicoot trilogy, Activision has taken to twitter to announce the date for the N.Sane Trilogy remastered collection. Back in December there was a possible date leak from a retailer indicating a February 28th release.
Activision tweeted the following yesterday:
Yeah, we're pretty excited too! pic.twitter.com/JyTt2jdgV7

— Activision (@Activision) February 15, 2017
There's a line of text on the bottom of the tweet that reads "Don't miss tomorrow's big announcement! #crashisback" which will not show up on the embed. You can check out Activision's twitter or just click on that tweet and see the original.
Given the format of those mystery boxes, it was obvious that we'd be getting a date today. And it's finally in:
The full post from Activision about the date can be found here.
For related Acitivsion news, you can check out the results of their latest earnings call here, see what's new in Heroes of the Storm from Activision's partner company Blizzard here, read up on our predictions for Call of Duty 2017 here, or see what's up with Skylanders for 2017 here. And there's some snazzy new Destiny concept art you can feast your eyes on here.
Updated to add: For those of you who don't like to or are unable to watch videos, the game is slated for June 30, 2017.
Enjoyed this article? Share it!