Alpine Esports Reveals Plans For F1 Esports Series 2023
Alpine Esports has a number of new changes in the works as they approach the F1 Esports Series 2023, which they unveiled today.
---
Alpine Esports revealed their plans moving into 2023 as they unveiled new drivers and more for the F1 Esports Series 2023. The organization has a number of additions for this year, including introducing the new driver line-up and Endurance drivers for the series, a new kit by Kappa, the official format and dates for the series, a brand new content room sponsored by QAN, a new ambassador and re-signings, and their new charity partner Special Effect. We have some of the official announcements from the organization for you below.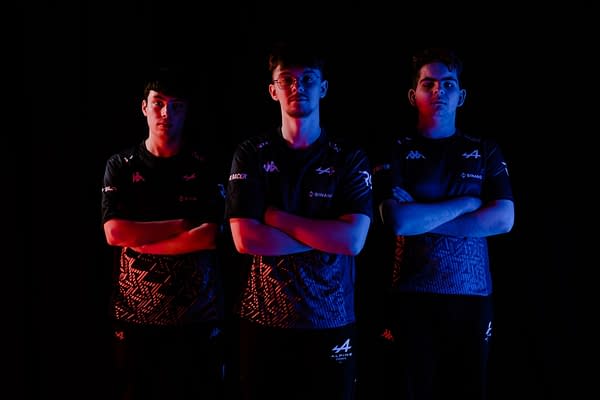 Alpine Esports New Team
Alpine Esports is delighted to unveil the new driver line-up for the F1 Esports Series 2023, fan favourite Patrik Sipos, rising star and 2022 F1 Esports Exhibition runner-up Luke Smith will return along with new driver Rubén Pedreño, who previously drove for Race Clutch (sim-racing organisation & partner of Alpine Esports) as an academy driver. Rubén will be supported by the team to get his F1 Esports Pro License through the Challenger Series. Alpine Esports also announced the renewal of their Endurance driver Collin Spork, who quickly rose to stardom in 2022 when he won the Formula SimRacing Championship by three points. Spork participated in the Le Mans Virtual Series where he managed to maintain a solid team standing during the world's longest virtual endurance race. Collin will be joined by Tom Lartilleux, who was also driving for Alpine Esports in 2022. Tom is a former Gran Turismo professional sim-racer as Vice-World Champion in 2018 FIA Gran Turismo World Championship.
Content Creators & New Kit
Alongside a new roster, Alpine Esports drivers will don a new team kit provided by Kappa, the Official Kit Supplier. Kappa has been a long-term partner of the BWT Alpine F1 Team, the Alpine Elf Endurance Team and Alpine Esports. The new kit embodies modernity, performance, and style while promoting comfort and breathability. The kit will include Alpine Esports' new logo alongside a snowflake design which symbolises the Alps, the DNA of the Alpine brand. PattyPatt, an F1 content creator known for hosting online lobbies, providing race commentary, and racing in competitive leagues, joins Alpine Esports as their latest ambassador. PattyPat will join AnaonAir and Thomb who renew their contracts and, alongside developing fun content for fans, will expand their remit beyond esports to connect with the wider motorsport community. Thomb also conducted a live broadcast at the launch of the BWT Alpine F1 Team 2023 F1 Championship Contender, the A523.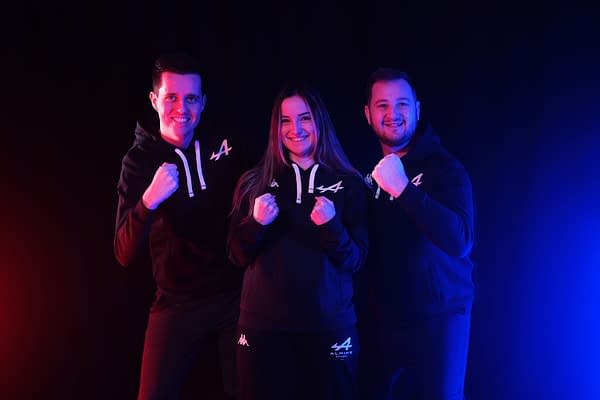 Alpine Esports Championship Series 2023
The Alpine Esports Championship Series returns for 2023, providing gamers and sim racers alike the opportunity to showcase their talent and attempt to take their virtual steps on the podium, driving Alpine A110 GT4 cars around 3 circuits. Hosted on Assetto Corsa Competizione, the Alpine Esports Championship Series 2023 qualifiers are set to begin on March 27th to April 9th 2023. Anyone owning the game and GT4 expansion pack can participate. The top 35 racers will qualify into the championship stage where they will compete in three rounds, on April 27th, May 11th and May 25th, for a chance to win a share of the $60,000 in Alpine Fan Tokens, a driving experience in an Alpine GT4, an Alpine Racing TRX simulator rig from Trak Racer, BenQ Mobiuz EX3410R curved monitor and exclusive Alpine Esports merchandise.
Partnership with Special Effect
Alpine Esports have signed Special Effect, a gaming charity that supports the physically disabled, as Official Charity Partner. Special Effect transforms the lives of the physically disabled through the use of innovative technology to make gaming as accessible as possible, with the goal of maximising fun and the quality of life of their gamers. Alpine Esports will work together with Special Effect to raise funds and awareness of accessible gaming for the physically disabled through charity streams, raising questions about accessible gaming in industry conversations, and work to develop more accessible ways for gamers to access sim racing.