"Altered Carbon: The Role Playing Game" On Kickstarter
Hunters Entertainment, alongside Skydance Television (the team responsible for the Altered Carbon television show), has developed the Kickstarter campaign for Altered Carbon: The Role Playing Game!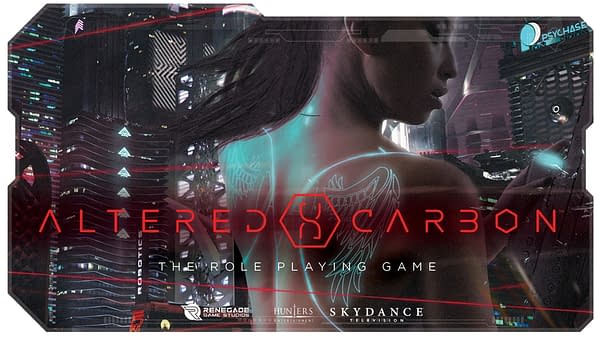 At this exact moment, the campaign is very nearly funded to its goal of $20,000 (it's already $17,721 in as of writing this very figure!), and the campaign just started today. Clearly, this campaign will be backed, but we here at Bleeding Cool are certain that the stretch goals will entice potential investors to fund it even further.

At this time, there are stretch goals teased up to the $75,000 mark, with the next goal after that being at $100,000. Some of the stretch goals already showcased include a folded map of Bay City, another source book ("Osaka"), and a live-play of a one-shot for the game.
Ideally, once the project is funded to its goal, Altered Carbon: The Role Playing Game is planned out for a digital release in April of this very year, followed by global publishing of the core rules around July. To achieve the July publishing goal, Hunters Entertainment is teaming up with Renegade Game Studios. While backers will have the first grab at the digital materials offered by this Kickstarter campaign, DriveThruRPG will be handling all of the digital releases.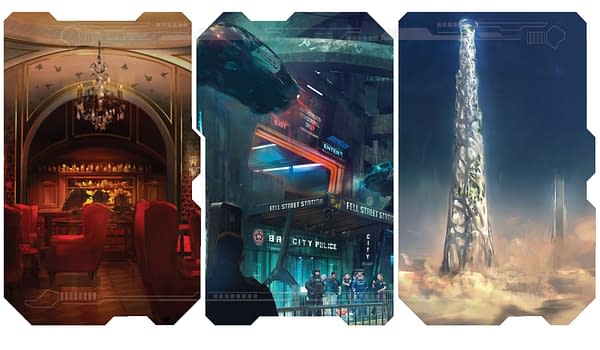 Inspired by the hit Netflix television show which was in turn based upon a novel by Richard K. Morgan, Altered Carbon follows a story set in a cyberpunk dystopian setting, bearing concepts of the Neo-Noir genre, transhumanism, and "digital human freight" (the idea that people are defined by their consciousness and the body is just an interchangeable vessel for that consciousness). Well, I'm most certainly interested in this! By the way, the funding has already shot up to $18,271 in the time it took for me to write all of this out – an increase of $550!
But what do you all think? Is the Altered Carbon roleplaying game worth your time and funding? Are you interested in playing it when it hits stores? Let us know!