Respawn Entertainment has announced they have a brand new arcade event coming to Apex Legends as they will be hosting a Grand Soirée. The event will run from January 14th-28th, in which you'll be able to take part in Limited Time Modes, a new Event Reward Track, and a bonus scoring weekend. Not to mention a ton of skins you'll be able to pick up along the way. There's also a direct purchase shop that will be active during the event, if you choose to throw down real money on the packs. Check out the details below along with some pics of the new Apex Legends skins.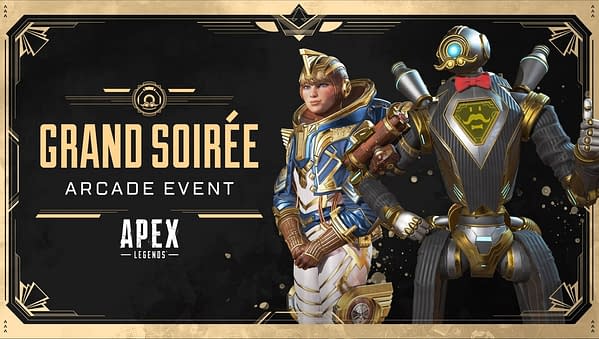 Seven Rotating Limited Time Modes – Experience seven different limited-time modes — with a new mode rotating every two days — including familiar favorites like Armed and Dangerous, as well as new modes like DUMMIE's Big Day. Each limited-time mode will have three new challenges worth a total of 1,000 points.

Event Reward Track – This new track system gives players more rewards, and even more ways to earn. Complete a variety of challenges to rack up Arcade points and earn increasingly prestigious rewards throughout the event.

Bonus Scoring Weekend – From 10am PT on Friday, January 17th to 10am PT on Monday, January 20, players will be able to grab an additional set of event-specific challenges worth a total of 500 points.

Direct Purchase Event Shop – Players can shop for a mix of legendary skins, as well as other Art Deco inspired cosmetics at a $5 price point. Six new Legendary skins will also be added to the core loot pool, which can be crafted or obtained from Apex Packs, or available for direct purchase.