Arena Breakout Will Launch Global Closed Beta Next Week
Tencent Games and MoreFun Studios will be testing more content in the next Closed Beta for Arena Breakout, launching February 17th.
---
Tencent Games and MoreFun Studios announced that they will be holding a new Closed Beta for Arena Breakout next week. The companies will be testing out a ton of new additions and mechanics being added to the hardcore tactical first-person extraction shooter, more so than previous tests, as they'll be giving you as close to a full release of the game as they can. The close beta will go live on February 17th for Australia, Canada, Mexico, New Zealand, the Philippines, the United Kingdom, and the United States; followed by a second test on March 9th that will be open to Brazil, Indonesia, and Japan. Both of these tests will be restricted to Android devices, with an iOS test coming later on. You can read up more on the test down below, as you can sign up on the game's website.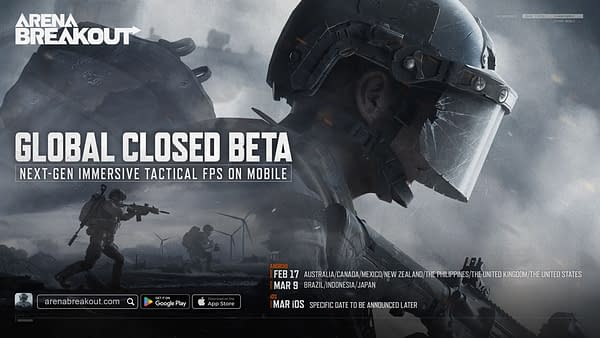 "In this first-of-its-kind extraction looter shooter, gamers will play as fortune-seeking agents on raids in the Dark Zone with the freedom to fight however they desire. Eliminate adversaries head-on, with stealth, or bypass the bullets altogether, just remember what's most important: surviving the fight and getting out alive. In Arena Breakout, each battle is a high-risk, winner-takes-all gamble. If you die on the battlefield, you lose everything you found and everything you've brought. If you win, you can keep all your cache. The next-gen realism of Arena Breakout extends beyond the battlefield where every decision you make before your mission impacts its outcome. Packing heavy will limit your mobility and reduce how much room you have to loot. Packing light will improve your speed but put you at a severe disadvantage in heavy gunfights. In addition, Arena Breakout boasts ultimate gunsmithing customization where players can build and modify ultra-realistic firearms with over 700 accessories. Arena Breakout delivers a new level of immersion to the tactical mobile FPS genre."