Astroneer Releases Brand New "Awakening" Update
A brand new update has been released for Astroneer as the team shatters a bit of reality and gives you a ride awakening.
---
System Era Softworks has released a brand new update for Astroneer today, as players will be able to experience the "Awakening." The update is absolutely free for PC and all three major consoles, giving you an all-new narrative adventure. You will have to take on an urgent mission by a mysterious new character, sending you off into strange places that will take you to the heart of the Sylva System, where reality doesn't look quite the same. We have some of the dev notes of what you can see int he game now, along with the latest trailer.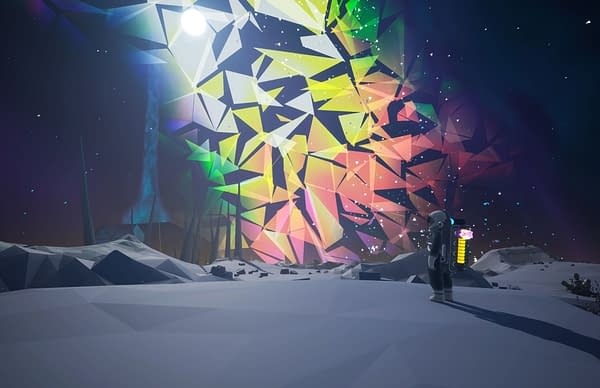 New Astroneer Mission Chain
Per Astroneer [ERROR!#00] Protocol, recruits are expected to complete the following missions in preparation for this new endeavor:
Composite Perfection
Final Entry
Training Complete
Please consult your EXO-certified mission log to verify your completion of these missions.
Fault Finders & Advanced Trade
Once [ERROR#%//HELP] has been completed, Fault Finder items can be crafted and deployed. Fault Finders which are activated and used to store a [ERROR//%!DENIED] can be used on the Trade Platform for the acquisition of extremely valuable or enjoyable items.
UX Improvements
Printer Control Panel Updates: Control Panels on the Small, Medium, and Large Printer have been updated with category-based navigation. Items are now grouped into separate rows, matching their grouping within the Catalog.
Location and Travel Notifications: When entering a region on a planet, a location notification will briefly appear at the top of the screen. The current location can be redisplayed by opening the compass. A travel notification will also appear at the top of the screen when traveling to a different planet.
Spaceflight: Stabilizations have been made to the camera when launching a shuttle into orbit, or traveling between planets.
Creative Mode Catalog Additions: The Beach Ball (Recreational Sphere variant) and multiple color variations of the Fireworks item have been added to the Catalog, and can be found within the second Creative Mode item category.
Astroneer's Fourth Anniversary
Wow! It's been almost four years since 1.0… can you believe it?! This February, we've got a celebratory cosmetic to share with players, from our heart to your head. Log in during the month of February to unlock exclusive cosmetic items!