DeNA and Crunchyroll announced a new holiday event headed to Attack On Titan Tactics, as the Fanciful Story will be kicking off next week. Basically, it's a chance to see everyone dress up in holiday gear like Eren Jaeger, Armin Arlelt, and Annie Leonhart. Plus a story that tries to celebrate the holidays in the middle of a world filled with giants trying to eat you. The event will kick off in Attack On Titan Tactics on December 10th.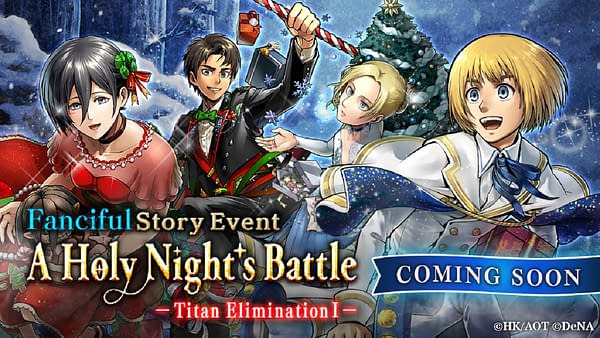 Fanciful Story Event – Holy Night's Battle: This in-game event tells an original story that's set in the time period when Eren Jaeger was in the 104th Cadet Corps. With the entire regiment tired from training and eager to hold a festival for the holidays, Armin Arlelt goes beyond the Walls in search of a special tree that's required for the festival. Players will be able to complete event stages for rewards, which can be exchanged to add the [Eve of Formal Dress] version of Armin to their teams. This in-game event will be held from December 10 10:00PM Pacific Time to December 24 11:59PM Pacific Time.

[Eve of Formal Dress] Eren Jaeger and [Eve of Formal Dress] Annie Leonhart: Holiday versions of Eren Jaeger and Annie Leonhart will also be available in the game starting on December 10 10:00PM Pacific Time.

Login Bonuses: Players who log in to the game by December 10 11:59PM Pacific Time will receive 30 "Boxes of Treats", each of which contains experience point upgrades for their units.
Enjoyed this article? Share it!