During D&D Live 2019, Beadle & Grimm announced they would be making a Platinum Edition set for Baldur's Gate: Descent Into Avernus. The company founded by actor Matthew Lillard, along with Bill Rehor, Charlie Rehor, Jon Ciccolini, and Paul Shapiro, found success with their first box last year for Waterdeep: Dragon Heist, and their most recent release with a Silver Edition of the soon-to-be-released Ghosts of Saltmarsh. Now, this brand new edition for D&D's upcoming adventure in September will expand on the story much the same way the Waterdeep set did with maps, jewelry, trinkets, settings, monster profiles and more to bring the adventure to life. Here's a little more info on the set, which will be released sometime in the Fall of 2019.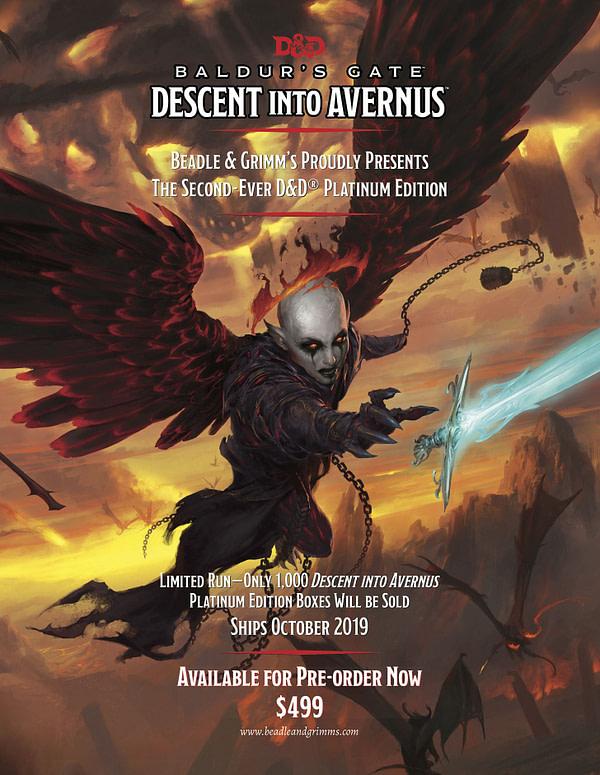 The Baldur's Gate: Descent Into Avernus Platinum Edition is the third major release from Beadle & Grimm ' s following their sold – out Platinum Edition of Waterdeep: Dragon Heist in 2018 and the Ghosts of Saltmarsh: Sinister Silver Edition coming out this June. Produced by B&G under an arrangement with Wizards of t he Coast, this newest Platinum Edition box takes the Baldur's Gate: Descent Into Avernus adventure to the next level by adding exclusive art, maps and in – world handouts for the players.

" Year one of this company was all about proving to the fans that we can deliver, " stated Lillard. " We hope the 2018 Platinum Edi tion showed everyone that we love this game and truly understand what Dungeon Masters need to make their game experiences even better. We ' re so gratified by the overwhelming positive response, and we ' re using that as inspiration to top ourselves in 2019 wi th products that are even more unique and inspiring. "