It looks like the drama over the bags that Bethesda Softworks sent out with the Fallout 76 packages may soon be over as new bags are going to be sent out. In case you haven't been following this story, hundreds of players who ordered the Power Armor Edition of the game were supposed to get all of the goodies you see below, which included a special canvas bag that you see off to the left in the photo below.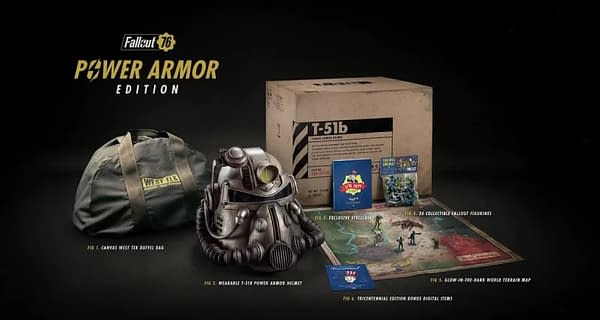 What people got instead were cheaply made nylon bags that were made about as well as taking a Hefty garbage sack and putting two straps on it. It looks kinda like the photo, but clearly is not made from the same material, as you can see from this angry tweet.
https://twitter.com/Abbernaffyfunko/status/1068135084669239297
The company has been getting nothing but vitriol from consumers, on top of the vitriol they were already getting over the game, who felt cheated and wanted a refund. Today, the company issued a brief statement letting fans know that they have opened a new support ticket where you will need to fill out your info by January 31st to receive a replacement bag like the one you see in the photo.
We are finalizing manufacturing plans for replacement canvas bags for the Fallout 76: Power Armor Edition. If you purchased the CE, please visit https://t.co/S5ClEZuQrx and submit a ticket by Jan. 31, 2019. We'll arrange to send you a replacement as soon as the bags are ready.

— Bethesda Support (@BethesdaSupport) December 3, 2018
Whether or not this will actually be a full replacement and be one the up-and-up is yet to be seen. We're guessing we won't know until either the company shows us one for real, or when people finally start getting them. Which based on the form and potential postage, will probably be around March 2019.
Enjoyed this article? Share it!