Call Of Duty: Warzone 2.0 Provides DMZ Update
Activision and Infinity Ward have a new update coming for Call Of Duty Warzone 2.0, specifically in the DMZ with Ashika Island.
---
Activision and Infinity Ward have released new notes for an update to Season 2 of Call of Duty: Warzone 2.0, adding more to the DMZ. The biggest update to the game is the brand-new Exclusion Zone that you can find on Ashika Island, where you'll end up having to infiltrate the foggy shores that luckily provide cover for both Operators and Shadow Company to take care of business how they see fit. The island itself has a number of secrets to discover, including a new Weapons Case, a new boss called The Bombmaker, several dangerous spaces to explore in that you'll need to figure out how to unlock and gain access to, and more. We got details for this and Building 21 down below, as you can read the full notes on the game's latest blog.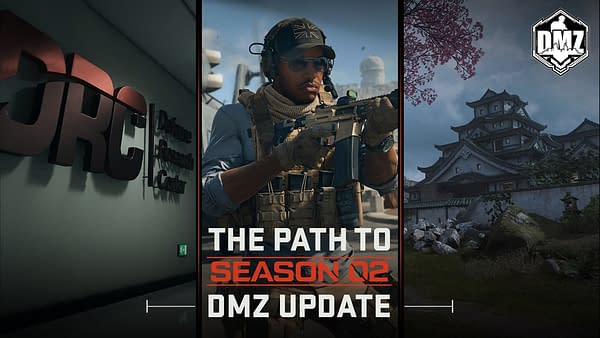 Call of Duty: Warzone 2.0 – Ashika Island
The new Ashika Island map coming to Warzone 2.0 is a brand-new Exclusion Zone for DMZ. Players will infiltrate on the shores of the island before making their way inland. Infiltration is under heavy fog that can impact combat by providing cover for both Operators and the occupying force: Shadow Company… but what could they be doing here? There is much to discover in the Ashika Island Exclusion Zone, including:
A new Weapons Case.
A new Boss: The Bombmaker.
New locked and dangerous spaces to access and explore.
Building 21
In Season 01 Reloaded, we introduced Building 21 with a unique Access Card and a timed infiltration window. Season 02 Missions have Operators returning to Building 21 as another Exclusion Zone option. If you need Access Cards to Building 21, be sure to seek out the following (in either Al Mazrah or Ashika Island):
S.A.M. Site Crates
Chopper Boss Crates
Buy Stations
Legendary (Orange) Crates
Operators should be prepared for heavy resistance in Building 21; it's recommended you gear up before heading to this location!