CORSAIR Announces New Partnership With Team Vitality
CORSAIR has announced a brand new esports partnership as they have teamed up with Paris-based Team Vitality for a multi-year deal. While the details of the partnership weren't revealed, it's pretty much a given you'll now see CORSAIR branding on their jerseys as well as on all the gear they use from headsets to mice to keyboards. Vitality has esports teams involved with CS:GO, League of Legends, Rocket League, Fortnite, Rainbow Six Siege, and more. Here are a couple of quotes from the announcement this week.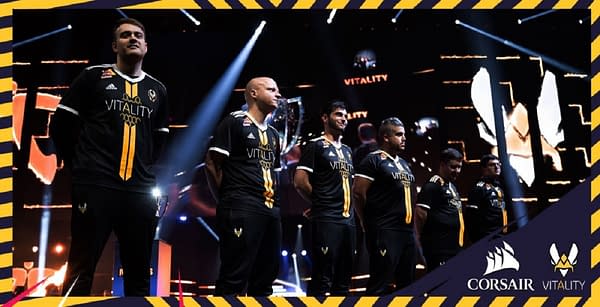 "We couldn't be more excited to partner with the biggest name in French esports," said Lauren Premo, Director of Gaming Marketing at CORSAIR. "Team Vitality has consistently demonstrated its championship pedigree with major victories in the world's most spectated games, such as CS:GO, and we're ready to cheer them on as they win even more using CORSAIR gear."

"This collaboration with the powerhouse CORSAIR marks another milestone for Team Vitality, said Nicolas Maurer, CEO of Team Vitality. "Being able to sign a multi-year agreement with such an esteemed brand proves once again the growth of our sector. As esports viewership continues to rise, we are proud to be amongst the leaders pushing in this direction. We've been glad to work professionally with CORSAIR on an ambitious project for both parties, built around a complete and multi-faceted activation plan. It was also important for us to be associated with a respected and reputable brand like CORSAIR to give our professional players the best performance possible, thanks to their very high-quality products."