This morning, Wizards of the Coast announced a new expansion to the D&D multiplayer card game Dungeon Mayhem with "Monster Madness". This expansion takes the game to a whole different level as you can now play as one of six different monsters in the game. Previously the original pack gave you four different classes, and the last expansion pack gave you two characters from Baldur's Gate with Minsc and Jaheira. This time around you get to see what it would be like to run as a DM in the game as you will have monster decks to choose from to take into battle.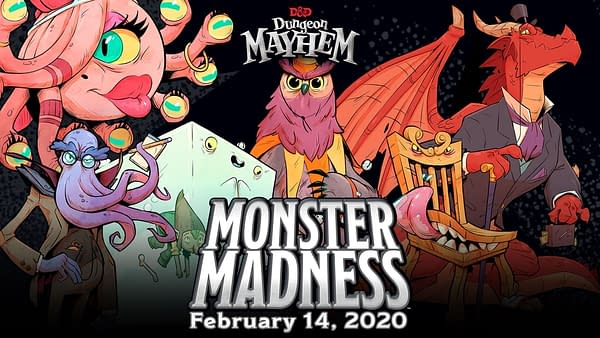 The six monsters you get to choose from are Delilah Deathray (Beholder) Hoots McGoots (Owlbear) Mimi LeChaise (Mimic) Lord Cinderpuff (Red Dragon) Blorp (Gelatinous Cube) and Dr. Tentaculous (Mind Flayer). That's a lot of variety that could make having a 10+ player match not only possible but insane to play. All of the art from this game is illustrated beautifully by Cam Kendell. Monster Madness will be released on Valentine's Day, February 14th, 2020. You can read more about the expansion on D&D's website.
Enjoyed this article? Share it!