Dead or Alive Xtreme: Venus Vacation Now Has 30 FPS Mode
Apparently, enough people had been complaining about a very specific graphics issue to persuade Koei Tecmo and DMM to create a 30 FPS mode inside Dead or Alive Xtreme: Venus Vacation. The latest update (01.14.00) adds in the 30 frames mode, allowing computers that don't have the best graphics cards and can't run the normal 60 FPS to see the game in all of its glory. Well, to a degree, because it is still 30 FPS. They've also added a new photo option inside the volleyball games and the new look for Kokoro below which they've released along with a new event dubbed "Hadaka no Kokoro".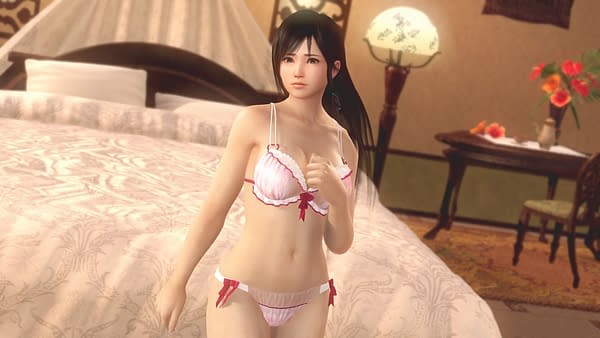 The whole thing is a play on words to mean both "Naked Heart" and "Naked Kokoro", but she doesn't actually get naked at any point in time. You're basically just getting her in a new white, red, and pink lingerie outfit along with a new event that involves a lot of playing special games and giving the women specific gifts in order to charm them and make them join your team for a variety of reasons. But hey, it is a Dead Or Alive game, so basically, this is all just another reason to see the women in the game in more variations of skimpy outfits. If you plan on downloading and playing it, you're not interested in our opinion, you're already sold by the photo above and video below.