Derek Jeter Named Cover Athlete Of MLB The Show 23 Collector's Edition
MLB The Show 23 will be getting Derek Jeter as the cover athlete for the Collector's Edition, which comes with a ton of bonus gear.
---
Sony Interactive Entertainment and San Diego Studio revealed Derek Jeter will be the MLB The Show 23 Collector's Edition cover athlete. Technically, Jeter did the honors of revealing it himself when he visited The Tonight Show last night, as he showed off the cover and the look of his character in the game and chatted about being a video game character people look forward to playing as. As you can see from the artwork here, they're going for more of a classic artistic approach to his appearance, celebrating all of the years and the work he put into his time with the Yankees. We got more info below on what's in this edition, as well as his appearance on the show.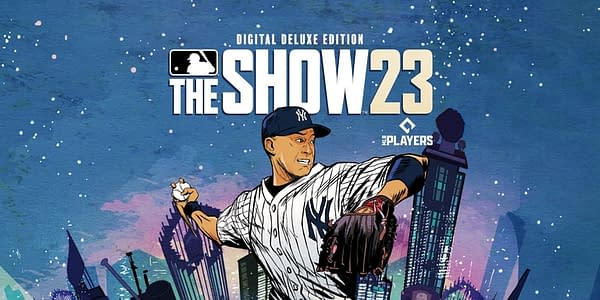 MLB The Show 23: The Captain Edition (Retail or PlayStation Direct)
The Captain Edition of MLB The Show 23 on PlayStation consoles include both a PS4 (disc) and a PS5 (voucher download code) entitlement. If you purchase MLB The Show 23 physical Standard Edition, you will only have access to that version of the game and will not be able to upgrade later. However, if you purchase the digital version of the Standard Edition (PlayStation or Xbox) you can upgrade for $10 USD. This limited-edition New Era MLB The Show 9FIFTY Cap and Steel Book (physical version only) is available to Pre-order on February 6th at retail or through PlayStation Direct. The MLB The Show 23 Captain edition on PlayStation includes:
Full Game for PS4 and PS5*
New Era MLB The Show 9FIFTY Limited Edition Cap
Limited Edition Steel Book
[4] Days Early Access
Double Daily Login Rewards (For the life cycle of MLB The Show 23)
Additional Digital Items:

[1] Captain's Choice Pack
[1] To be announced Choice Pack
[1] To be announced Uniform Choice Pack
[2] Gold Choice Packs
[5] Show Packs
[1] Ballplayer Pack
[1] Derek Jeter Cover art bat Skin
[10,000] Stubs for MLB The Show 23
Digital Deluxe Edition (PS Store)
For our biggest digital fans, you know who you are… the Digital Deluxe returns to the PlayStation Store. The Digital Deluxe Edition is $99.99 USD/$ $129.99 CAD. For those of you that need packs on packs on packs… on packs, this is the edition for you.
Full Game for PS4 and PS5
[4] Days Early Access
Double Daily Login Rewards (For the life cycle of MLB The Show 23)
Additional Digital Items:

[1] Captain's Choice Pack
[1] To Be Announced Choice Pack
[1] To Be Announced Uniform Choice Pack
[5] Gold Choice Packs
[20] Show Packs
[1] Ballplayer Pack
[1] Derek Jeter Cover art bat Skin
[30,000] Stubs for MLB The Show 23