Destiny 2: Lightfall Shows Off Exotic Loot In Latest Trailer
Get a better look at some of the weapons and armor Bungie has in store for Destiny 2: Lightfall in the latest trailer.
---
Bungie has a new trailer out today for Destiny 2: Lightfall, as they have highlighted some of the new exotic loot coming to the game. The trailer, which you can check out dow at the bottom, shows off some of the new gear that you can snag as part of the upcoming expansion. As well as some new Strand verbs like tangles, which are bundles of quantum strands left over when enemies unravel, which make for some nasty keepsakes. These tangles can be utilized if you're using Strand to weave objects and creatures or for other purposes that will be closely tied to specific weapons from this collection.
You also get a better look at the Quicksilver Storm catalyst upgrade, where the Exotic Auto Rifle's grenade kills create Strand tangles, which can then be thrown at enemies. Those who pre-order the new expansion will be able to get the Quicksilver Storm right now. It's an interesting expansion that will make for some fun times when you're going into battle with your Guardians well-equipped. We have more notes below on what you'll see in the trailer, as Lightfall will be released on February 28th.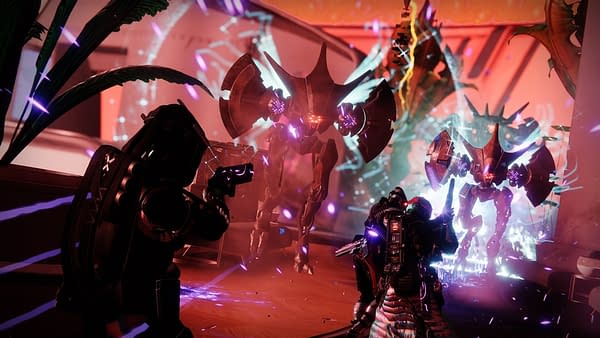 Destiny 2: Lightfall – New Armor & Weapons
Final Warning – This Strand Sidearm tracking rounds that seek out nearby enemies.
Deterministic Chaos – A Void Machine Gun that rhythmically weakens enemies as it fires.
Winterbite – A Stasis Exotic Glaive that freezes enemies on impact with frost orbs, leaving them vulnerable to follow-up attack.
Cyrtarachne's Façade – This Exotic helmet gives extra protection as Hunters gain armor and flinch resistance when they grapple.
Abeyant Leap – When Titans use their Barricade with this Exotic leg armor, it spawns seeking projectiles that suspend enemies and gives armor to its wielder.
Swarmers – This new Exotic leg armor allows Warlocks to create a Threadling to infest and attack enemies after destroying a tangle.