It's been a few months since we heard anything about Ni no Kuni II: Revenant Kingdom from Level-5 or Bandai Namco, until today with the game's first major DLC. The content will be called "Labyrinth of the Ghost King" and will include a slew of new challenges, a long story, more weapons, and additional content that will get a little more out of the game if you've beaten everything in it since it was released in March. Here are the finer details released this week by the devs, but no word as to when it will officially come out beyond "Winter".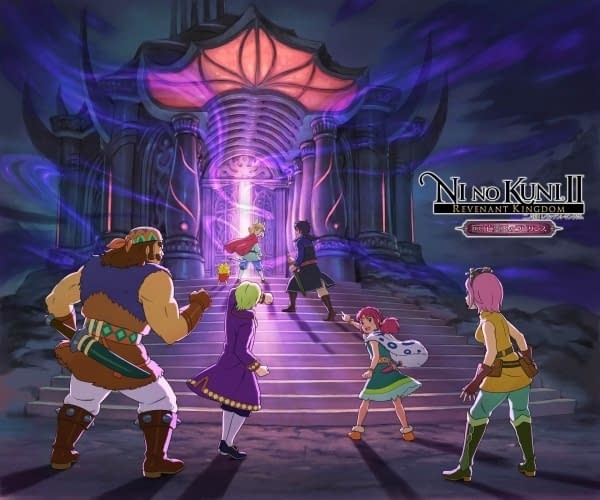 A Labyrinth Covered in Mysteries

The Labyrinth was created long ago to seal something away, but now that it has carried out its duty, a chaotic random dungeon seems to be spreading within it. The tainted that drifts from the gate signals the dungeon's terror… What lies in wait at its innermost depths?

■ New Boss: "The Ghost King Lamikyl"

The Ghost King Lamikyl

Once the king of Endrasis, a kingdom that was located in the Heartlands. Now the ruler of the Labyrinth, it is said that no one who has witnesses the mysterious Lamikyl returns alive. He was somehow tainted by darkness and became "The Ghost King," but what is his purpose..?

■ New System: "Gokui System"

A new system called the "Gokui System" that evolves the battle system of the player character has also been added. It appears that new changes will be added to the battle style by understanding the "Gokui" items that certain characters leave behind…. As for exactly what Gokui is, stay tuned for a future update.

■ Over 80 New Equipment Items

Over 80 new weapons and armor equipment items have been added. From those with a glistening and gem-like radiance to those that give off a sinister aura, but just how strong are they…?

■ New Quests for Main Characters

New quests that revolve around Evan's heartening comrades have been added. While the pasts of these characters have not been much discussed before, their truths will finally be revealed.

■ A Rematch with a Certain Boss

Finally another battle with a certain boss that you fought in the main story!? Stay tuned for a future update.
Enjoyed this article? Share it!