Fans of Eternal, Dire Wolf Digital's free to play digital collectible card game, have some pretty big news to celebrate!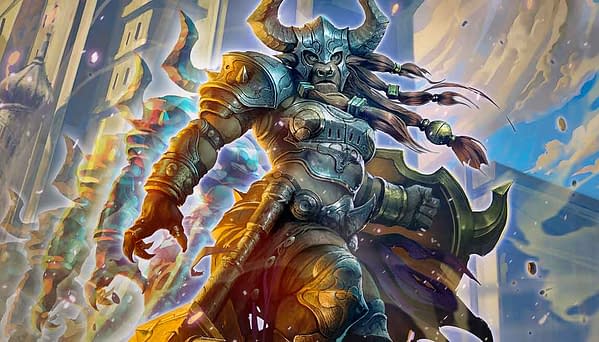 ……
Dire Wolf Launches Sixth Expansion for Eternal Card Game – Dark Frontier
Denver, CO – May 9, 2019 – Dire Wolf Digital today announced the newest expansion for Eternal is now available on Steam, Xbox One, iOS and Android. Dark Frontier, the sixth set for the free-to-play collectible card game explores the Shadowlands of Eternal, a strange and deadly place where twisted magic and ancient mysteries challenge the boundaries of possibility.
Dark Frontier introduces over 200 new cards and several new mechanics, including:
Onslaught – Rewarding those aggressive urges in the heat of battle, cards with Onslaught offer rewards if you or any of your units have attacked.

Twist – Those that enter the Shadowlands don't always come out the same. Used any number of times during your turn, Twist will grant units +1/-1, granting strength while losing health and providing a variety of strategic benefits.

Shift – The Shadowlands have blurred the lines that separate "what is" from "what is not." Units Shifted cannot attack, block, or be selected by any cards for three turns.
Dark Frontier also introduces a new draft format for Eternal, consisting of two Dark Frontier packs and two Eternal Draft Packs including cards from all five previous sets. With the newest set opening first, players will get the best chance to sculpt their draft around Dark Frontier cards and themes.
The future calls…get ready for Dark Frontier!
About Eternal
Eternal is a turn-based strategy card game with unlimited choices and infinite possibilities, and has been praised as one the most truly free-to-play digital card games on the market. Pick your faction, gather your allies and join the battle for the Eternal Throne. Download Eternal on Steam, iOS and Android.
……
Dark Frontier is available now!
Enjoyed this article? Share it!