Disney Lorcana Reveals Pricing & Illumineer's Trove First Look
Check out a brand new card from Disney Lorcana as Ravensburger has new details of what the game will run you at launch.
---
Ravensburger has revealed some new details about the upcoming release of Disney Lorcana, including how much you're looking to pay for cards when it comes out. We now know that Disney Lorcana: The First Chapter will officially come out on August 18th for specialty and hobby shops, while the mass-market retail release will take place on September 1st. These releases will take place across multiple countries, including the United States, Canada, the United Kingdom, Ireland, France, Germany, Austria, Switzerland, Belgium, the Netherlands, and Luxembourg. Meanwhile, if you're looking to get your hands on them, we have the official price guide of what the company will offer up when they hit the shelves. Enjoy the info below, along with a look at a new card called "Tinker Bell – Tiny Tactician."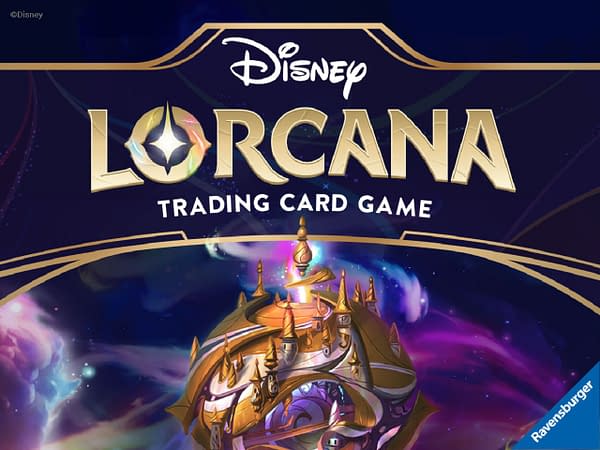 Pricing for Disney Lorcana: The First Chapter
Starter deck(s) – $16.99 USD/$21.99 CAD/ £17.99 GBP
Disney Lorcana: The First Chapter Amber & Amethyst Starter Deck
Disney Lorcana: The First Chapter Sapphire & Steel Starter Deck
Disney Lorcana: The First Chapter Emerald & Ruby Starter Deck

Each set provides balanced and ready-to-play game deck
Includes a set of 60 cards in two of six "inks" — Amber and Amethyst, Emerald and Ruby, or Steel and Sapphire
Each deck includes 2 foil cards of the characters on the front of the packaging
1 booster pack of 12 random additional game cards
11 damage counters
1 tracker token
1 paper playmat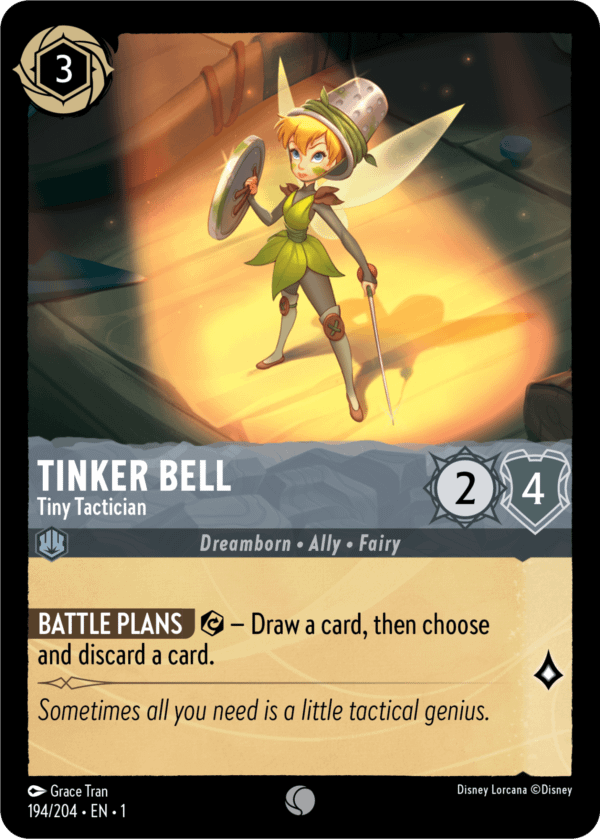 The First Chapter Booster Packs
$5.99 USD/$7.99 CAD/ £4.99GBP (UK), per pack
Includes 12 randomized game cards, including one foil card of random rarity level and two cards with rarities of rare, super rare, or legendary. The other 9 cards are a mix of common and uncommon cards.
The First Chapter Gift Set
$29.99 USD/$39.99 CAD/ £27.99 GBP (UK)
Includes two oversized, collectible foil cards and two regular-size playable foil game cards of Mulan – Imperial Soldier and Hades – King of Olympus
4 booster packs
2 Lore tracker tokens
32 damage counters
Disney Lorcana: The First Chapter Illumineer's Trove
$49.99 USD/$64.99 CAD/ £49.99 GBP (UK)
Features gorgeous art from the game, includes deckbuilding tips, game strategies, and powerful card combinations directly from the design team, as well as a visual guide to Disney Lorcana: The First Chapter. It also includes a checklist to keep track of collected cards.
Full-art storage box
2 full-art deck boxes featuring Aurora and Mickey Mouse
8 booster packs
15 damage counters
50+ page, full-color player's guide printed on thick and glossy paper