Disney Reveals Marvel World Of Heroes During D23 Expo
Disney, Marvel, and Niantic have come together for a brand new mobile title as Marvel World of Heroes was revealed during D23 Expo today. Much in the same vein as Pokémon GO, Ingress, and Pikmin Bloom, the game will operate the same way featuring well-known comic book heroes and villains from Marvel using the company's Lightship platform. We have the rundown and the teaser trailer for the game below as the game will be released sometime in 2023.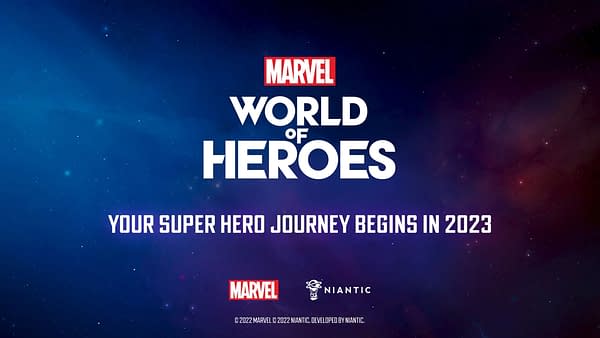 Marvel World of Heroes is an AR mobile game that brings the iconic Marvel Universe into the real world and is scheduled to launch globally in 2023. As the first Marvel game where players become their own unique Marvel Super Hero, Marvel World of Heroes breaks new ground by extending gameplay into the real world as only Niantic games can. The game is designed to be a social game experience and pits players, their friends, and their iconic Marvel Super Hero allies against Marvel Super Villains and interdimensional threats.

In Marvel World of Heroes, players can create their own unique Super Hero identity and origin story. Players will need to patrol their neighborhoods to foil crimes, complete Super Hero missions, and thwart interdimensional threats. As players level up, they will unlock equipment and abilities, and will team up with Marvel Super Heroes such as Spider-Man, Wolverine, Captain America and others to battle iconic Super Villains and save the Multiverse from cosmic and earthbound threats.

Create your own Marvel Super Hero, customize your style & battle loadout, and make specificchoices about your Super Hero journey.
Patrol your neighborhood to foil crimes, team up with Marvel Super Heroes, and closeinterdimensional rifts.
Unlock iconic equipment and abilities from the Marvel Universe to style and specialize your herofor your preferred gameplay style.
Save the Marvel Multiverse from imminent threats by battling against Super Villains and teamingup with iconic Marvel Super Heroes.