This past weekend on Twitch, Dungeons & Dragons held the Stream Of Annihilation, which showed off a new campaign on the way. The campaign was revealed to be called the Tomb of Annihilation, and holy crap, does it ever look fun and difficult. Here are a couple images from the book, just to give you a taste: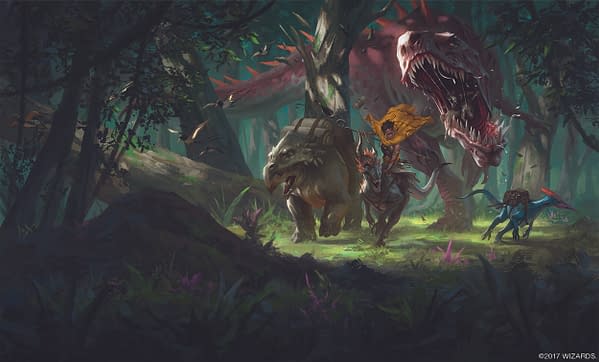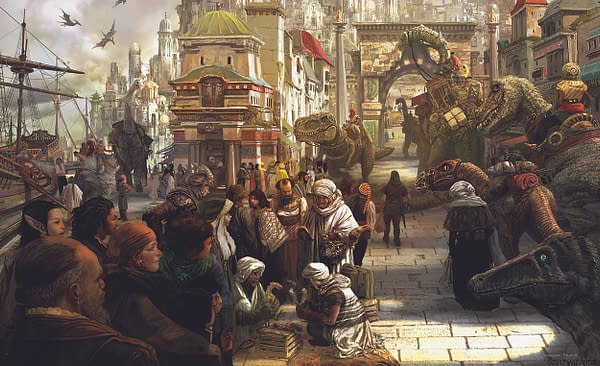 Yep, those would be dinosaurs roaming around the forests and marketplaces. The primary focus of the game is straight-up standalone adventure for levels 1-11 that will challenge you to find the root cause of a "wasting disease" that's consuming anyone raised by the dead. Like all adventures, there's a shroud of mystery surrounding everything that's happening. It isn't being made very clear as to what you're walking into, only that there's danger at every turn — and it's probably going to kill everyone in a vicious way. Just the kind of adventure we like. That book will be coming out on September 19th.
But Dungeons & Dragons isn't stopping there! In what may be the last book released for 2017, we were also introduced to Xanathar's Guide To Everything, which will serve as a companion book for DMs, giving them some brand new options. Included in this tome will be complete rules for more than 20 new subclasses, including the cavalier, the inquisitive, and the horizon walker. Plus, it includes a slew of new feats and spells, and a new system to give your characters very unique and randomized backstories. Basically, it's a new set of tools and options to make your customized games feel much more genuine, lived in, and totally original. That book will be out November 21st.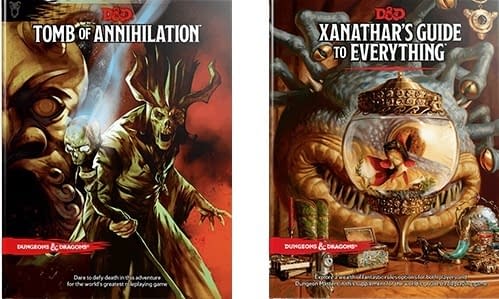 For those who would like to check out the Dungeons & Dragons official stream of the game and get a taste of what's to come this September, we have the first of two days worth of videos for you below to check out.
Enjoyed this article? Share it!