If you need proof that people really wanted a better battle royale game, look no further than the current Fortnite numbers on Twitch. According to both StreamElements and StreamHatchet, ever since Black Ops 4 was released, the numbers for Fortnite have started to take a tumble. Taking a look at the numbers in hours over the past month, Fortnite viewership has dropped significantly enough to be noticed, losing 15% of streamed hours in August and another 20% in September. Meanwhile, the current numbers for October are not promising, as the game barely sits above League of Legends while Black Ops 4 climbs the chart.
#Top10 most watched games of last week on @Twitch. On top: @FortniteGame, @LeagueOfLegends and @CallofDuty. #esports #analytics #streaming #streamhatchet #Top10Twitch #Top10Games #games pic.twitter.com/RJ5Y87Ceco

— Stream Hatchet (@StreamHatchet) October 15, 2018
Now don't mistake the numbers for failure as Fortnite is still #1 on several charts and is still raking in millions of dollars of income for the latest event and will still be the most popular game on Twitch coming out of October. But… it does look like the shine is starting to wear off the game as people are now consumed with Blackout at the moment. We contribute more of Black Ops 4's audience to PUBG fans who were tired of their system and moved to a game that basically works better than theirs. But there's no denying that streamers are far more interested in playing the new hotness and are leaving other games behind in the process.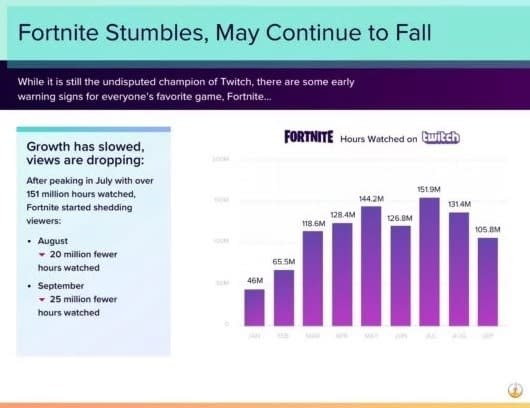 Enjoyed this article? Share it!