Fortnite Will Be Getting a Chiller Grenade Added Soon
Season 7 continues in Fortnite as they will keep running with the winter theme, which includes a new dangerous item being added soon. The devs have been teasing the Chiller Grenade during in-game promotions, a new projectile item shaped like a dead snowman's head that will give enemies "cold feet", according to the description. Basically, this is a freezing weapon. Whether or not it will do any damage is yet to be determined, but what we do know is that it will freeze your opponents in place for a short period of time. So its the Boogie Bomb all over again, just with a winter theme.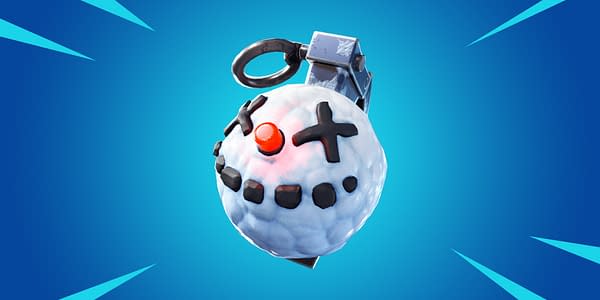 If we're seeing it already, chances are it'll be in the game by week's end, if not then by next Monday. Our best guess is that this will be the last of the winter-themed items to come around until we hit Valentine's Day, because you know Epic Games will do some event related to love and all things pink around then. At which point we'll probably see the snow start to melt from the island and prepare for Fortnite's Season 8. So enjoy the cold while you can!