Friday the 13th: The Game is Getting a Collector's Edition
It appears Gun Media and IllFonic are saying goodbye to Friday the 13th: The Game in the best way possible with a Collector's Edition. After basically being told that the company couldn't create any new content for the game while the lawsuit over the rights continues and never seems to end, it looks like they both cutting their losses and making one last release for the fans in case anyone wanted to get everything they could from the game. The Ultimate Slasher Collector's Edition will be released on both Xbox One and PS4 on September 4th.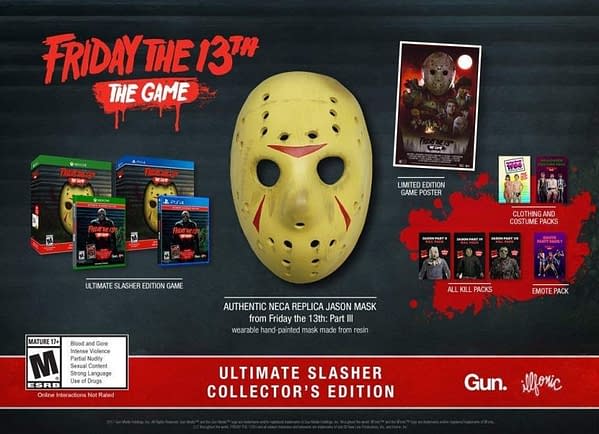 With the exception of the special "Flaming Jason" skin that was for Kickstarter backers only, this is the entire game with all of the DLC that's come out so far. You'll also receive a limited edition poster and an authentic NECA Replica Jason Mask from Friday the 13th: Part III. Basically, if you love the game this is an all-in-one pack for you, and if you've never gotten the game before this is everything you could ever want to dive into it. Of course, there's no additional content that wasn't released due to the lawsuit, so we won't get a chance to play stuff that was waiting in the wings.