Giveaway: 400 Codes For Darkness Rises Anniversary On Android
Nexon is celebrating the second anniversary of Darkness Rises by giving away a ton of free stuff for the game to Android users. Below we have 400 codes provided by the devs, which we are giving away on a first-come-first-serve basis, for you to get a special pack of items to celebrate the game's second anniversary. Inside each of these packs contain the following: 5 x Costume Chest (Rank A – S++), 500 x Adventure Key, 20,000,000 Gold, 20 x EXP Boost Ticket, 20 x Choice Dye Ticket, and 10 Costume Deco Chest (Rank A – S++). The anniversary also comes with some additions to the game, which you can read about below along with the latest stats trailer showing where the game has come in the past two years. Snag a code while you can!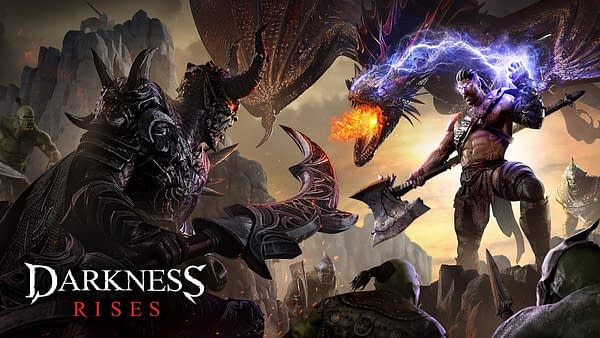 New Character: The Guardian is the newest character who deals damage to enemies with his gunlance and shield, with both melee attacks and long range magic cannons. The Guardian is also an integral part of team play, combining his unique damage-dealing capabilities with valuable healing skills to help keep teammates in the battle.
Character Improvements: As part of an ongoing effort to improve the gameplay experience based on player feedback, several improvements will be made for the Wizard character. These include increasing damage to certain skills while adding attack speed buffs to others. Utilizing these improved skills during combo attacks will greatly improve the Wizard's capabilities during battle.
Celebration Rewards: Now through August 2, players will automatically collect the special second year anniversary one-time award of 2,000 gems. In addition, five types of second year anniversary celebration boxes allow players to gain rewards such as gems, costume boxes, pet eggs, and gear boxes. In addition, all players will be rewarded with specially designed costume decorations to celebrate the second year anniversary.
VEFMFP5H3M
VEFM9D7EPU
VEFDZZ7KNH
VEFE8SCGAM
VEF6HJVNZT
VEFCS4795K
VEFXCS9U98
VEFA8SPWKE
VEF6XR6SPT
VEFPD5E4PL
VEF6GEJSHT
VEFBJ7B8EH
VEFLC8XCF8
VEF5J5MZTZ
VEFJ3GJ4MN
VEFEEAUZYD
VEFJ5EGZK3
VEF8R8NUAV
VEF9NY8PSW
VEFHDD83NH
VEF2BGMFNB
VEFX282GG6
VEFZRJ4A6A
VEF4KV8T3M
VEFDR35F3V
VEFKEF45V5
VEFHVT8GW5
VEF7MSCUA6
VEFBN9AXRH
VEF4T8C6AX
VEFH9MAMN4
VEFX77DUU4
VEFBVBXU52
VEFK2LKCCL
VEF9762KZE
VEF6RSBWDU
VEFHVHRRKU
VEFA4N8E69
VEFJ556VPB
VEFNDWWAPA
VEFESAZU6V
VEFBM6KCTN
VEF8P548TZ
VEF588TGHR
VEFTACTASZ
VEFJ84U7MN
VEFHG934JB
VEFNSYZ3U2
VEFKAYKN2A
VEFWPA75R7
VEFG7UHY8D
VEFVAWFDXY
VEFKKZSVJY
VEF2GYS4UT
VEF9LE39KR
VEFK9WCTJX
VEFP2DVFGV
VEFJ3DJKK3
VEFUH58MJX
VEFJKM7NBK
VEF89GW997
VEFYR4RFV4
VEFNYKSM3S
VEFF8CM2DZ
VEFRRG77D2
VEFVVFYPDN
VEF3F8S6NW
VEFCT3LKC9
VEFXJAL7UX
VEFPCRKWVV
VEFS7YGNNT
VEFRZLPJ4X
VEF2SKM967
VEF6BBLBE2
VEFZEC487V
VEFVYZY4AH
VEFS5PA43F
VEFJWYD7RM
VEFDLYCJC4
VEFUMML9BB
VEFA8P4WMC
VEFLZ7DY27
VEFH55UXA3
VEFJRJ728W
VEFEG6V98K
VEFV7WK3T7
VEF3GEHMW6
VEFNYYGY2A
VEF8WD4VKN
VEFV8KBCA8
VEFMYFKYER
VEFCTULTJD
VEF2UPYCP2
VEFGTL6NLJ
VEFB8MKZX6
VEFM8WZMG4
VEFMX7NFDG
VEFMPADHRU
VEFE5YY7D5
VEFGWEHWCH
VEFKFNG966
VEFJJ44N2W
VEF6227KDX
VEFE2SZY7L
VEFNS9YEVS
VEFGN74RLY
VEFGK2D5KR
VEFFS8GCMZ
VEFK63EVME
VEF8986MYX
VEF5DKFWHP
VEFP5GPB98
VEFN9ZK3DT
VEFFFWJJ2M
VEFZ6MGGE2
VEFLU6MYCX
VEFBH3AVEL
VEFB3EXKC6
VEFCT263NM
VEF4N6SY25
VEFP63U7KN
VEFSAASZ6S
VEFA6YABV3
VEF47Z4WFA
VEF4GKM6L9
VEFW9PGMVV
VEF7WYDKC3
VEFHWEKDXK
VEFSU36U77
VEF7S7YAXW
VEFGDMVR3N
VEF2HTP3VK
VEFHH255UJ
VEFNAL3SJZ
VEF9NLABMM
VEFSBZ5VBV
VEFN5XNY2V
VEFUR5G6AY
VEFAW59ELG
VEFRANPDUB
VEFTKV5Y26
VEF2LVAFDA
VEFVKNJGZC
VEFNZA6Z8V
VEFXLR7PWM
VEFYD6MDJ8
VEFFW9GL32
VEF7PPK2ZB
VEFFY3D4VH
VEF7A2G4SC
VEFEA3NJCZ
VEFYCKB6TV
VEFHC5WHX4
VEFPK24AUC
VEFAEPKXF5
VEF5XDH5LA
VEFJ6MAT57
VEFS224YRB
VEFAEYZVPX
VEFHTMHKFL
VEFV5N6HET
VEF2TCWPX7
VEF9C9BHBR
VEFSH9W28E
VEFYYVH9US
VEFWS9RFWS
VEF9R7C3MR
VEFMV6JLCH
VEFFREY4XB
VEFCBZ3PYD
VEFRNXUNUW
VEFYTANL49
VEFGX9ZBLD
VEFDSY899B
VEFGRX57L6
VEFSDMF256
VEFK32BGRU
VEFTANL9SR
VEFWLZ9ZH4
VEFXNHSZLA
VEFLFDW3PJ
VEFJDJN9TR
VEFJZP53ND
VEFJAUKFN4
VEFVKZ8VNE
VEFTXEZGZB
VEF8KDAM8D
VEF894FLFM
VEF2WTVYUX
VEFA4AHPFW
VEFBPXWBDF
VEFYLDYCE4
VEFSJXZAUT
VEFKLLL8HN
VEFW7GS84S
VEFPTV8GE2
VEF8RU3H2C
VEFB7FX576
VEFFLSEGWK
VEFL9FNN2D
VEF6JDT3DY
VEFARGPYH3
VEF2FKYXFX
VEFBFY9JL2
VEFAADX58Y
VEF2RRWP5C
VEFDZLEU3P
VEF9JS28DV
VEFJEYZCE5
VEFRPV4G8F
VEFUH5SLF9
VEF76X2EG7
VEFZXYAMHR
VEF2JE4Y65
VEFNN4MVA6
VEF37GFXJF
VEFZ39CRMG
VEF6WUWBG2
VEFGEUJEMK
VEFBAXUK3C
VEF5F6VR58
VEF7GRLJV2
VEFBE3Y3GG
VEFCNR4ZJU
VEFK4P9DCD
VEFXG9YFCF
VEF3KGYPLU
VEFF87LG2Z
VEFYXLXAA6
VEF22HL4RF
VEFGVBLN7J
VEFJ843MZ2
VEF5NHDMMH
VEFSRFW8UL
VEFCZN5GUA
VEFL556RRK
VEFETVE5HB
VEFBJUM4JX
VEFF5T9XJS
VEFBKSBH6W
VEFMULBW4G
VEFW7JZKPX
VEFU5F98GC
VEFTEL7AKK
VEFWV9H8D5
VEFGAHDSTY
VEFT2LEPAV
VEF9Z2X3LD
VEF43KFARR
VEFNS975TP
VEFRY8K5AA
VEFDUSXBNB
VEFECU5SN3
VEFEC7ZRSH
VEFFVXT8C8
VEFXS6XPPM
VEFWXHFH9K
VEFJG8J26D
VEF3R6LWAV
VEF44BHNTG
VEF8JW83S8
VEFR3DVJB9
VEFAFB8ULY
VEFLK8FMCK
VEFABS8WYJ
VEFPGEHTWH
VEFYFG9C89
VEFUHEV9C4
VEFUXC5JGR
VEFPRNUS5F
VEFAC55UBL
VEFCXA9NN7
VEFPY7HF98
VEFPZNM3SP
VEF9T6WADM
VEFTXREJLY
VEFC45GM4Z
VEFR9HXV7Z
VEFLTPMNGR
VEFPZJDFA2
VEF5X97K3B
VEFBSWAH22
VEFBS5GUEW
VEFHXPWMW5
VEF3PCWE34
VEFLUWWXGB
VEFH75NCHK
VEF2PVFJ7H
VEFE926CKZ
VEFL5CMSM3
VEFDKVD88Z
VEFBCDC3FF
VEFV4Y4C4B
VEFS7SMKRJ
VEFUZH6DB8
VEFMHZXK4K
VEFSBKURED
VEFZU47AT6
VEF448YRSH
VEFVK9U754
VEFC75TE9S
VEFNNYL8MU
VEF66RCCRS
VEFNH7YV9W
VEFK9WP4V6
VEF3CEB2GR
VEFLBZFMNC
VEFXGUJXKJ
VEFUGF7E3R
VEFVKG7NWG
VEFT8STGHH
VEFU4GB2L7
VEFWWYFR86
VEFTKLRJ9N
VEFY32HXPR
VEFPML8A4Z
VEFDJYUSFR
VEFLW5KHAX
VEF3S5AENC
VEFDDUXPRT
VEF9XRBDKN
VEFJS7T3R9
VEF4LYJHPB
VEFS8VSYTW
VEFS3B9LCR
VEFZ4L8EAZ
VEF4U6ENX4
VEFANSSW5H
VEFHFPPMM9
VEFWVZ6JWZ
VEFEAPCYXP
VEFSWLZAPX
VEF58CJJ39
VEFKW6FJ4T
VEF8CK2996
VEFH86JGME
VEFFL8FM9K
VEF92J5LMU
VEFKYBY22T
VEFVL7MAB4
VEF8UGK59E
VEFFTCACSK
VEF2C5JZME
VEFXHTZ43R
VEFFW9D8Z3
VEF29FT33W
VEF92UT59G
VEFMUF3V4P
VEFCTMCTHN
VEF3G5TS2B
VEF4Y5AG4D
VEF3MBVJHL
VEFJCUAWD5
VEFM6CJTRX
VEFZW8DE7J
VEFYDP5KGL
VEFSK72JNA
VEFJZBP3AJ
VEF52FUFYH
VEFLZCF6FJ
VEFPGN39HP
VEF2TU5PZ9
VEFHJ28YGN
VEFRRAT7DX
VEFX5J3TSD
VEFNC6L838
VEFLCWZC4R
VEFWWH7MJN
VEFZRCCJHZ
VEF48VW929
VEF5M653B4
VEF7PMHM3B
VEFYBNGFWW
VEFHD8F259
VEFJ99WBPD
VEF2HBTN5Z
VEFYCK4JK8
VEF62B355K
VEFS4TF5LN
VEFJC58JS3
VEF69V9VJA
VEF8D7R5A2
VEFYWVV66T
VEFHJD4WKR
VEFFPPUEW6
VEFW7DXCJG
VEFN2RKYH3
VEF2ZGJHD5
VEFW8HEUAF
VEFKKZ6NDX
VEFRNLXE7E
VEFEN7PEXD
VEFC7TFW5K
VEFVL97S4M
VEF3Z2FS5J
VEFWEZBGNM
VEFUJNELJL
VEF2MVWUZK
VEFKEHHJ5F
VEFZT2KUGL