Grant Theft Auto V has just added a bunch of new cars and vehicles to the Online mode, which includes the new Pfister Comet SR you see below that will get you just a little extra flash and speed on the roadway. But that's not all, as Rockstar sent out a notice (which we've included below" for all new deals and special missions they'll be running from now until March 6th. If you've been waiting to get a deal on any of the items below, now is the time to act!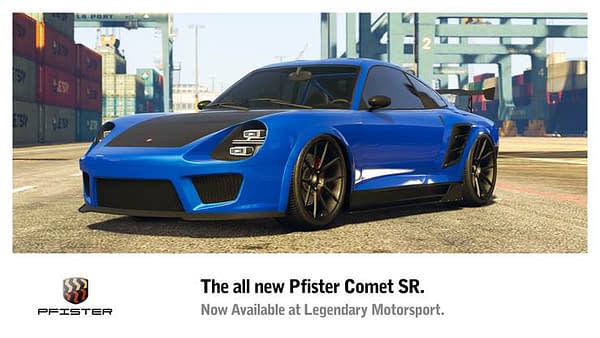 In addition, entrepreneurs of all stripes will see a healthy ROI this week, with awards of Double GTA$ & RP across any of the following modes and missions:

Gunrunning Sell Missions (launched via your Bunker laptop)
Special Vehicle Missions (launched from your Executive Office laptop)
Air Quota – Work your way through every flavor of airborne combat the Los Santos skies have to offer the only way you know how – by blowing your opponents to bits with Missiles and Cannons.
Rockstar-Created Transform Races – Compete across air, land, sea or foam in all 32 Rockstar-Created Transform Races – where a Checkpoint can instantly find you at the controls of a different vehicle.

DISCOUNTS: THE MAMMOTH AVENGER, FACILITY UPGRADES & MORE

Through March 6th, prop up the military complex for less with huge savings on difference makers like the Mammoth Avenger, cabs for Mobile Operations Centers, Facility customizations, and select aircraft and vehicles:

Aircraft Discounts:

Mammoth Avenger – 25% off
P-996 Lazer – 25% off
Volatol – 25% off (Buy it Now & Trade Price)
Western Company Seabreeze – 25% off (Buy it Now & Trade Price)

Facility Upgrades:

Facility Style – 25% off
Facility Graphics – 25% off
Security Room – 25% off

Vehicle Discounts:

Mobile Operations Center Cabs – 30% off
HVY Insurgent Pick-Up (Off-Road) – 30% off Buy it Now & Trade Prices
HVY Nightshark (Off-Road)– 30% off
Declasse Yosemite (Muscle) – 25% off
Vapid Riata (Off-Road) – 25% off
Enjoyed this article? Share it!