"Harry Potter: Wizards Unite" Fan Festival Will Happen In August
Harry Potter: Wizards Unite hasn't even been out for two weeks and Niantic and WBIE have already scheduled a fan festival to happen this fall. The event, which doesn't even have an official name beyond "Fan Festival" at the moment, will be taking place at the White River State Park in Indianapolis, Indiana from August 31st-September 1st. We're guessing based on the announcement, which we have some of the information for below along with quotes from those involved, it will run a lot like Pokémon GO Fest. With everyone gathering in one location to do a bunch of wizard fighting in one location with some special things happening within the game to make it interesting, as well as activities happening around the park. More info about the fest will come out over time at this link, but it will be interesting to see who attends with the city only having GenCon three weeks prior, and many heading west to attend PAX West that same weekend.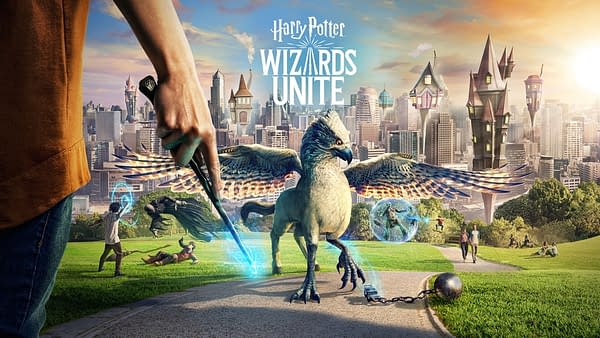 "Real-world events are part of Niantic's DNA, bringing players from all walks of life together in the name of adventure, exploration and creating lasting friendships," said Bill Kilday, vice president of marketing and live events, Niantic. "The incredible White River State Park is surrounded by the rich culture and history of Indianapolis and will be the perfect location for our inaugural Harry Potter: Wizards Unite event."

The first-ever real-world event for Harry Potter: Wizards Unite will welcome players to Indianapolis to investigate the chaotic magical activity that is leaking into the Muggle world and work together to solve the mystery of this Calamity. Players will explore Indianapolis and the beautiful White River State Park to discover mysterious artifacts, cast spells, and encounter fantastic beasts alongside their friends and other players.

"We're delighted to welcome thousands of wizards and witches playing Harry Potter: Wizards Unite to Indy over Labor Day weekend," said Leonard Hoops, president and CEO of Visit Indy. "Our long history of hosting gamers from around the world and delivering large-scale events makes Indy the perfect place to launch this first-of-its-kind event, an event which will also put Indy's culture and local businesses on full display in front of a global audience."