Hasbro Kicks Up Political Discourse With "Monopoly: House Divided"
As we enter a major political voting year, Hasbro has decided to kick things up a few notches with a new game in Monopoly: House Divided. The game literally has you picking one of two sides, represented by the colors red and blue. Then you travel around the board as if you're on a campaign. Instead of buying properties you try to win votes. The player with the most states claimed at the end of the game wins. We have a few more details about Monopoly: House Divided below, which you can buy now at most U.S. retailers for $20.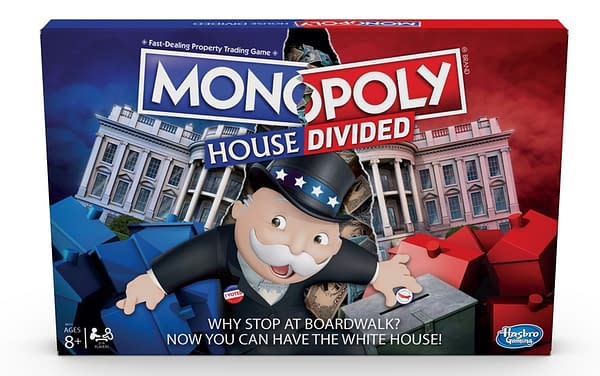 Bringing power to the people! Players can flex their political muscles and stir up competition with new themed spaces around the board including:

– Executive Power: Landing on the Executive Power space gives players the chance to show what type of president they will be with cards that advantage them, or disadvantage others.
– Campaign Bus: Roll along the campaign trail! By landing on this space players can move forward to any space on the board.
– I Voted: Pick up an I Voted card to start a mid-game election between candidates by voting on a candidate to carry out an action – like taking money from the treasury or going to jail – which can put you ahead in the polls.
– Fundraisers: As a political icon, you need to give back to the people. By landing on the Fundraiser space, you will have to reach into your pocket and pay the Treasury the designated amount.

No race to the presidency is complete without the coveted White House token! This special token is earned when a player rolls doubles or draws an Executive Power card that tells them to do so. When a player has the White House token, they earn double the rent on their properties and earn an extra 10 extra votes at the end of the game. It pays to have the White House on your side.