Hime's Quest Is Available For Digital Download Totally Free
You can download Hime's Quest right now from Crunchyroll Games, or pre-order a special Game Boy version from Limited Run Games.
---
Crunchyroll Games have released Hime's Quest today, completely free for players to download the ROM and play on CP right now. Working together with indie developer Poppy Works, this original title has you going back in time to 1999 as you help stop the Y2K virus in the game's version of NYC, in an attempt to save your favorite anime club. This is a lovely little title with a lot of throwback vibes that will take you to classic Game Boy and Game BoY Color titles. The company is also working with Limited Run Games to create a special edition, which you see below, that will give you a playable version of the game for old-school Game Boy consoles. For $45 you can get a physical copy with an orange cartridge, a box that looks like it came from 1990, and a free poster inside, just like Nintendo used to pack into them. Pre-orders are happening right now, with the physical edition of the game set to be released sometime in May 2023. For now, enjoy the info and trailer below before you go download the game to play on PC.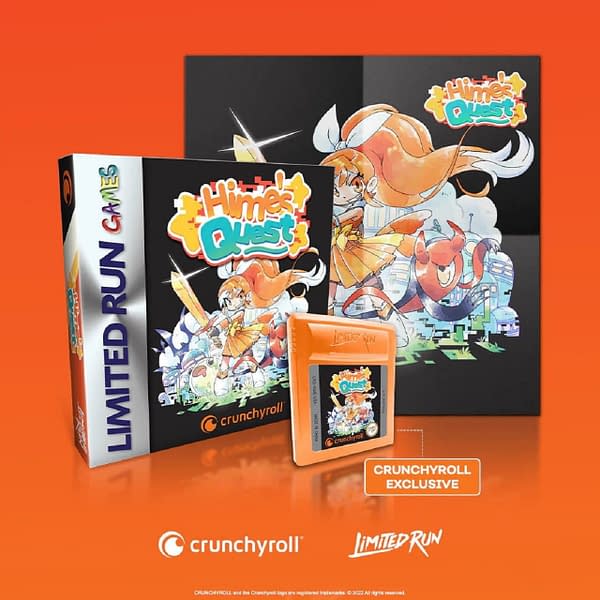 "It's 1999, and something electric is in the air. A malevolent force has crept into New Crunchy City, wreaking havoc on its technology and tragically destroying the Anime Club's precious DVD/VCR combo player. Now Crunchyroll-Hime must travel through the haunted forest, rescue her friends, and fight these sinister villains if she's to save the NCC Anime Club. Can you root out the dastardly cretin brazen enough to ruin their meeting—all before time runs out? Hime's Quest is finally here! Help Crunchyroll-Hime save New Crunchy City, Embark on an epic adventure, and explore the world like never before. With thrilling battles, intricate puzzles, and a compelling storyline with characters you may recognize."