Good news just keeps rolling out from Nintendo as we get closer to the launch of the Switch. Today the company announced that all Switch owners will have a chance to preview Splatoon 2 in a global testfire between March 24-26. It will be the first chance the public gets to play the game months before launch without having to attend a special event or wait for an in-store display. The tests will be broken up into six one-hour blocks at specific times, most likely for Nintendo to do all sorts of tests for their servers and to make sure the online play runs smoothly. Whether or not they'll be taking feedback is unknown, but honestly, it doesn't matter as you'll get to try the game for free! Provided people don't crash the servers.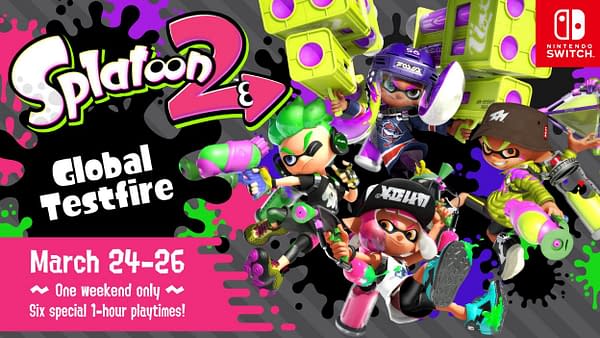 During this event, non-players will be able to experience the game through a new mode called Private Battle Spectator View, which will allow two people to observe the game from multiple camera angles in a special spectator mode. How much control you have over those views is yet to be seen. The company also announced via press release that a new LAN Play system will be added that will allow ten docked systems to be hooked together (eight playing, two observing) to connect via wired LAN, allowing for private battles without the need of any internet. Below are the dates and times you'll be able to join the event!
March 24
12-12:59 p.m. PT / 3-3:59 p.m.
ET 8-8:59 p.m. PT / 11-11:59 p.m. ET
March 25
4-4:59 a.m. PT / 7-7:59 a.m. ET
12-12:59 p.m. PT / 3-3:59 p.m. ET
8-8:59 p.m. PT / 11-11:59 p.m. ET
March 26
4-4:59 a.m. PT / 7-7:59 a.m. ET
Enjoyed this article? Share it!