Interview: Chatting With Anshar Studios About "Telefrag VR"
One of the more interesting VR games we had a chance to check out in recent months was Telefrag VR, a new game by Poland-based company Anshar Studios. A short time ago, we were given the chance to chat with game designer Damian Wyspiański and level designer Michał Sapiński about forming the studio and getting into VR games, as well as talking about their upcoming game.
Damian Wyspiański & Michał Sapiński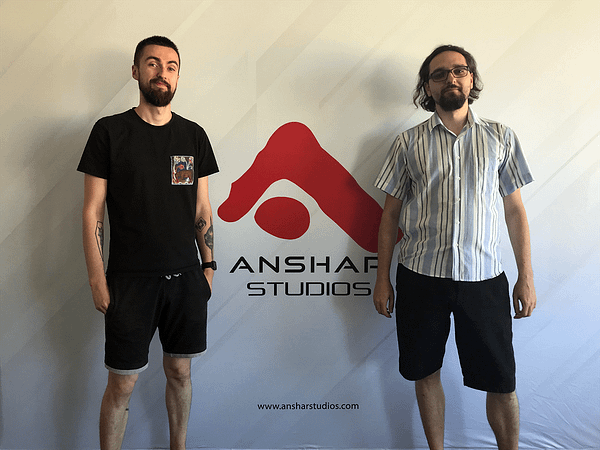 BC: How did you all come together to form Anshar Studios?
Damian: The origins of Anshar Studios go back to the time when the current core of our team worked at CI Games (then City Interactive). After the Katowice department was closed in 2012, a group of people who said they still wanted to work with each other decided to start a new studio. The beginnings of Anshar Studios' activities are primarily working for hire for gaming industry companies, which allowed us to gather a lot of experience and gain a lot of different skills. Despite the passing of years, we are still working with many clients, such as Larian Studios, Bloober Team, or Farm 51, but at the same time, we create games on our own. The last title, which we published, was Detached (space exploration VR game) in 2017. After two years it's time for Telefrag VR!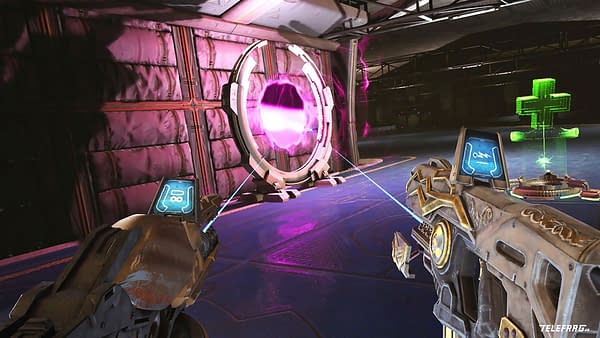 What specifically drove you to making VR games above any other genre?
Damian: Undoubtedly, the boom associated with VR devices and the fact that the largest companies have decided to invest in this form of entertainment, are the factors why we have decided that we want to try a hand at VR. In the same time, our team was inspired by the Gravity movie, so the idea to recreate one of a kind experience in VR was perfect at this time. VR back then something new, the dynamical growth of the whole market, and great potential that lies in virtual reality mobilize us to try our luck in this market. In addition, the Polish government began to strongly support the game dev industry. At the same time, as the freaks of new technologies and players, we concluded that why should wait for VR games. It's better to be among the first explorers of this genre and to do VR games yourself.
What's been your driving force or mantra when it comes to coming up with game ideas?
Michał: This, of course, depends on the time, the team and the game and the business requirements set by the board. Looking at our achievements, we can say that a specific rule may be the quote: "boldly go where a few have gone before". A good example of this is Telefrag VR and the question we asked ourselves: Are the games like Quake III Arena or Unreal Tournament are possible in VR? If so, how to use VR in such an intense and satisfying gameplay.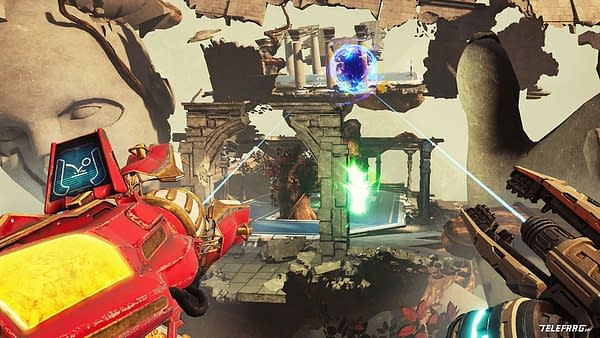 I was told that you deliberately ignore all the platform holders' tips on what to avoid when making VR titles. How did that decision come about?
Michał: During the creation of Detached our goal was to create a game that would challenge a well-worn scheme and show that VR gameplay can be extreme—delivering an intense sense of immersion—as well as graphically impeccable. Entering the niche, we were aware that the product would not reach players vulnerable to nausea. After the Early Access release on Steam, we had the opportunity to show Detached at various gaming events, which gave us an idea of how many players are actually prone to motion sickness. It turns out that for over 3,000 players who tried Detached, 20-30% of them were prone to nausea. The majority didn't show any problems and experienced comfortable gameplay. It was a good thing to hear the players' feedback. That may seem trivial, but many game developers forget about it during the development phase. Don't be afraid to share an early version of your game to test the solutions among people who are not accustomed to VR. We did it in Detached and Telefrag VR (via open-beta) as well.
How did the idea for Telefrag VR come about?
Damian: A little sneak peek at why we started working on the game I gave above. After a valuable lesson for us, which was Detached, we came to the conclusion that we want to unite (reduce) motion sickness in terms of switching core gameplay assumptions. Even if it's still space theme, the core movement mechanic of the game is stick to the platforms, with the ability to teleport to the surrounding platform. We get rid of Zero-G's intense sensations. We wanted to pay the VR tribute to the legendary games we grew up with, adding well-familiar technology to the Telefrag VR unique gameplay. Thanks to that we created intense fast-paced fps shooter, dedicated for Virtual Reality.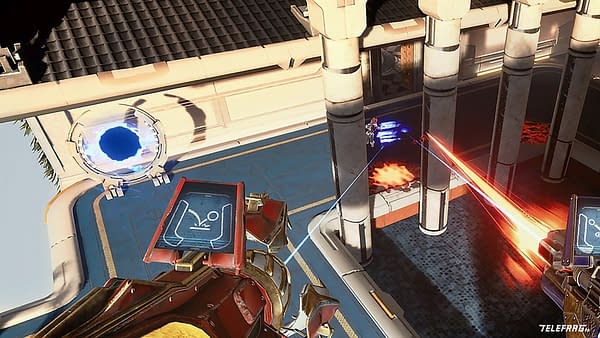 What made you decide to go for a more hardcore gaming experience with VR?
Michał: Through VR, we wanted to give players the most likely all aspects of the virtual environment that they become part of wearing goggles and we succeeded. For the needs of Telefrag VR, we have slightly changed the approach, but we have not changed the overall assumptions. Thanks to earlier shows, open beta tests and conclusions after Detached, we decided what is the most important element in the project—in the case of Telefrag VR, it is intense gameplay. A good example of this is our decision to add an alternative way of moving after the open beta—free movement, because, according to many players, it better reflects the feeling of classic FPS.
What was it like putting this game together and the development process to bring it to life?
Damian: Our industry is special because on the one hand, it`s rational, technical, technology-driven, and on the other is a place where artists and dreamers are successful. The eternal conflict between them also took place here (in our game) and this is a normal phenomenon. The key is to develop the right framework of the project, its pillars, and goals to achieve (money is obvious but not the only goal). The experience we have from Detached, but also from projects prepared for our clients, certainly helps us throughout the entire production cycle. We know what to look for, where are the traps, but… we were surprised few times.
Michał: In the case of Telefrag VR it was the architecture of maps and moving system. In the early stages of production, some of the maps had rounded edges or resembled ramps like this for skateboarders. Entering them looked terrible, but above all, it caused motion sickness. That's why we got sharp edges that you can not enter, only teleport yourself. The second case is the numerous voices of the players after the Open Beta, in addition to Dash Movement (modeled on Doom VR), add free-motion, we did not expect it, especially after the experiences of Detached, but we added it as a possible option.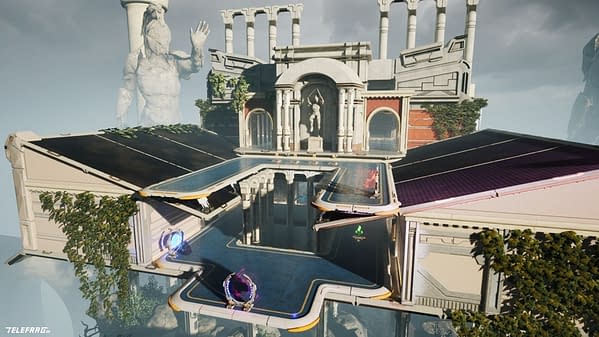 What made you go with the teleportation mechanics and making levels that pretty much defy logic and gravity?
Michał: The fundamental premise of Telefrag VR is to give intense gameplay like the Quake and Unreal Tournament in VR. Therefore, our task is to give these unique dynamics to every level of the game. This applies first of all to how the maps look and how the player can move after them. As you can see, our maps often escape logic and gravity, and this requires us to implement solutions that support this feature and at the same time realize assumptions (intense gameplay). This is the reason why we added teleportation mechanics. What's important, teleport mechanic can be use not only as a way of locomotion. You can use teleport to attack your enemy. Game tests clearly showed us that this solution works also because it is easy to master this mechanic, but mastering it requires time and commitment. However, it's worth taking the time.
What's the beta been like and seeing the response from players?
Michał: For the first time, we were preparing an Open Beta for players, therefore we made a few mistakes, especially at the organizational level, luckily the players did not suffer. Beta let us know if and how the multiplayer works, how long users play our game and how long they are waiting for an opponent, etc. In any case, it allowed us to catch the biggest errors. In general, feedback from players concerned: moving system-dash vs free motion, as well as map design and general game experiences. It's good for us that most Telefrag VR players have liked it, because of the good feeling of the old-school FPS and the great VR immersion.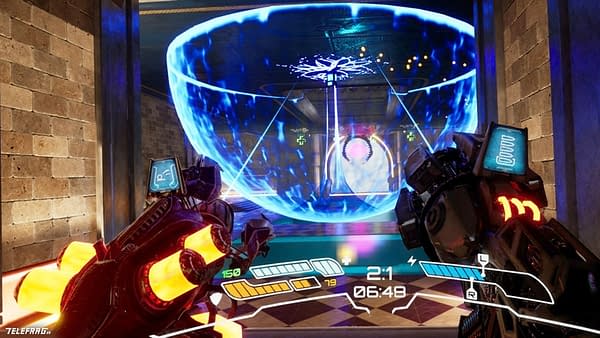 What's the plan for the game going forward and when can we expect to see it released?
Damian: We have started a close cooperation with the creators of the 3dRudder—a device "allowing" to walk in VR, which we think will appeal to those who like to have full control over classic gameplay (more physical) in virtual reality. At the same time, we are looking at and gathering feedback from the VR community focused on Reddit or Discord, so that we can best determine the future of Telefrag VR. We are in the final phase of the game's production. It's very, very close to the premiere. Telefrag VR will appear simultaneously on Steam, Oculus Rift, PSVR, and Windows Mixed Reality. Keep your fingers crossed!
What else have you got cooking while this is nearing the end of development?
Damian: In addition to Telefrag VR, we're working on several more original projects. We cannot reveal much, except that we want to take a rest from VR games and face new challenges in new genres.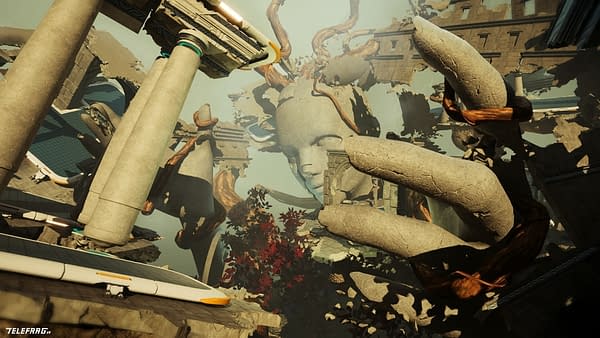 What can we expect to see from you over the rest of 2019?
Damian: At the moment we are very focused on Telefrag VR and we do not plan to release any other game this year, but that does not mean that it will be completely quiet about us. You will find more information about Anshar Studios plans near Gamescom.