Those hoping to get a physical copy of Killer Queen Black are in luck as Liquid Bit and BumbleBear Games will publish one this summer. The Nintendo Switch version will arrive sometime this summer while the Xbox One version will arrive in the fall, both courtesy of distributor Nighthawk Interactive with a retail price of $30. These will also include exclusive themed controller skins for each console included in the packaging. We have more details below of what those will entail, we just don't have a proper release date yet, which we're expecting to see at E3 2019.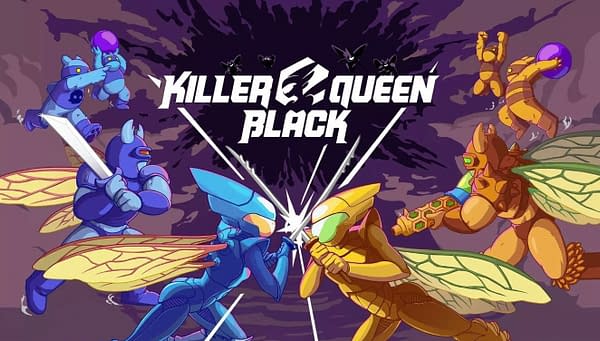 The Killer Queen Black physical edition includes:

Cross-Platform Multiplayer – Fast-paced and reactive multiplayer awaits two teams of four players each to compete across six different maps. Complete cross-platform functionality enables Nintendo Switch, PC and Xbox One players to team up and battle it out as they aspire to ascend the ranks and become the dreaded Black team.

Three Victory Conditions – A match ends once one team has won three times, and wins can be achieved in three ways. Workers can earn an Economic Victory by collecting berries on the battlefield and bringing them back to their home base. Soldiers and Queens can claim a Military Victory by slaying the opposing team's Queen three times. And, sometimes slow and steady wins the race with the Snail Victory, which players can earn by slowly riding the snail waiting in the middle of each map back to base.

Three Game Modes – Quick Matches are ready for those eager to leap into the fray, Ranked for those who want to rise to the top, while Custom games offer a private sandbox for players to invite friends or play with AI.

Exclusive Controller Skins – Players can flaunt their dedication to becoming the Black team with exclusive themed Nintendo Switch Joy-Con and Xbox Wireless Controller skins, made of top 3M vinyl skin material with precision fit and is easy to apply and remove.
Enjoyed this article? Share it!