Kingdom Hearts 3 Will Have Hidden Endings and Patch Updates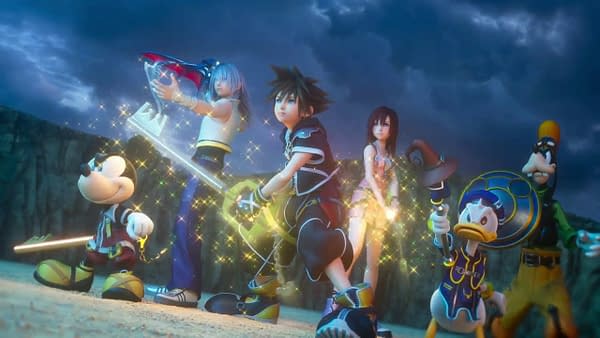 Not only will Kingdom Hearts III be launching at the end of this month, but Square Enix has also unveiled their plans for updating the game post-launch. So we'll keep getting more Kingdom Hearts content once we're done with the game, to make up for that lengthy wait between mainline games.
The first update coming to Kingdom Hearts III will be the game's epilogue, which will be patched in the day after launch. There will also be another "secret" video for players to find to give them hints on where the story goes from there because obviously we won't be done with the heartless by the time we finish the third game.
Square Enix revealed the news on the Kingdom Hearts twitter account this morning.
Update 1.01 will arrive on January 29, 2019 when the game launches on PS4 and Xbox One. That launch day patch includes several "data fixes" and the Memory Archive. The Archive will be added to the game's title screen and will provide a digest of the full Kingdom Hearts story in the series up to the point of KHIII.
On Wednesday, January 30th, the Epilogue will be added to the game and will be available for watching after players complete the main story. So, if you somehow manage to beat the game in 24 hours, you'll still be able to view the Epilogue without starting a new save file.
On Thursday, January 31st, a "secret" video will be released that will be able to be viewed following completion of the main story. Players will also need to fulfill some specific criteria to unlock the video, and those unlock conditions will vary depending on difficulty. No, we don't know what will need to be done to view the "secret" video yet, but we'll keep you posted.
While the updates add some cool new stuff to the game, it does mean that players will need an internet connection to get the most out of Kingdom Hearts III, though you will be able to see the ending of the main game without an internet hook-up.
The epilogue and secret video are being held back from release to protect fans from any spoilers, which has been a major problem for the game in the past few months.
While the update schedule revealed today only goes as far as the first few days post-launch, director Tetsuya Nomura has said that he wants to have something to "add to your enjoyment of Kingdom Hearts III" when asked about possible DLC, so there is some hope there.
Kingdom Hearts III will launch on PS4 and XboxOne on January 29, 2019.