For those of you who love Kirby, the pink puffball turned 27 this week. And with his birthday came a special message from the series director. HAL Laboratories Inc. posted a new blog from Shinya Kumazaki about how prolific Kirby has become in recent years and branched out in various ways in the world when it comes to merchandising and promotion. The message, which we have a snippet for you below, seems to be positive and shows promise of more new games in the years to come.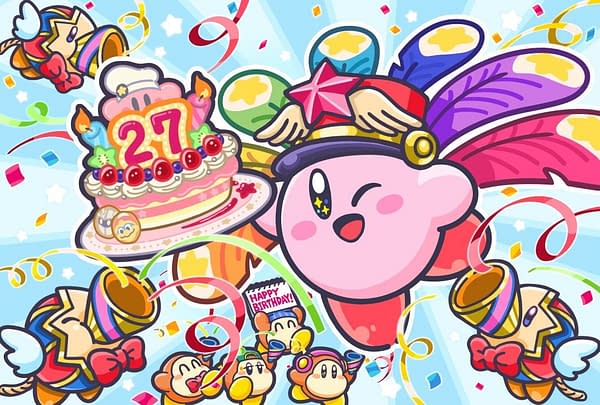 Living in a country that is awfully peaceful, Karby has been fighting in the game world with his foes, in order to protect his peaceful nap time.

While making a face like a kyoton, it is developing a last battle with the world over against the enormous and huge enemy that you notice. It is also one of the curiosity of the Kirby world.

However, recently, the new Kirby's daily life may have increased the opportunity to see it. 
Kirby's world of stars has been expanded to a great place after the 25th anniversary year.

The Kirby IP has been carefully developed by the entire staff and the brand has become able to challenge a variety of things that have not been tried before. 
I think everyone has an increased opportunity to see Kirby even at various events, shops and familiar convenience stores.

Is that the result! 
Thankfully, this year, we received the "Best Character Award" at Famitsu Award 2018 from Weekly Famitsu. 
All the staff are full of gratitude. Thank you very much!
Enjoyed this article? Share it!