League of Legends Gains Secretlab as a Global Partner
League of Legends make partnership deals all the time with different companies in different regions, but they just scored a new global esports one with Secretlab. The deal will basically have Secretlab gaming chairs on stage for the League of Legends Championship Series (LCS) and the three premier global events with The Mid-Season Invitational, the All-Star Event, and the World Championship. This will make them the third global partner for the run along with MasterCard and Alienware. Here's a quick quote from the press release.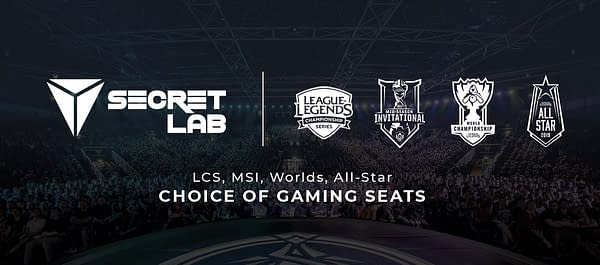 "The best League of Legends athletes require the best equipment," said Naz Aletaha, Head of Global Esports Partnerships at Riot Games. "Secretlab's award-winning chairs offer seating that's optimized for peak performance and comfort, making Secretlab the obvious choice for top League of Legends players competing for the highest stakes."
It's a pretty sweet partnership for Secretlab, who I believe gets the better end of the deal here between them and Riot Games. There are a dozen companies who could have been vying for that spot to have their chairs seen on broadcasts, and while I'm sure there are some finer points to the agreement we don't know about, the main thing to think about is that the biggest thing Secretlab has to do in a public eye is create a set of custom League of Legends chairs. A couple dozen chairs with different logos on the back to have my gear seen by millions in one of the most popular esports on the globe? That's not a bad tradeoff.