LEGO DC Super-Villains Receives The Young Justice Pack Today
Cool news today for Young Justice fans as the cast will be going LEGO and joining LEGO DC Super-Villains with their own DLC Pack. WB Games and TT Games have made six characters available for purchase today as you can get Kid Flash, Aqualad, Artemis, Super Boy, and Miss Martian to battle it out in the game. You'll be given a new mission that the Justice League has sent you, and if you manage to complete it, you will unlock a new villain in Black Beetle. We have the official descriptions of all six for you here. Those of you wondering about Robin, he's already in the game, but it's unclear as to whether they will give him a matching skin to go with the series that you can choose from or leave him as-is. But he is not a part of this pack.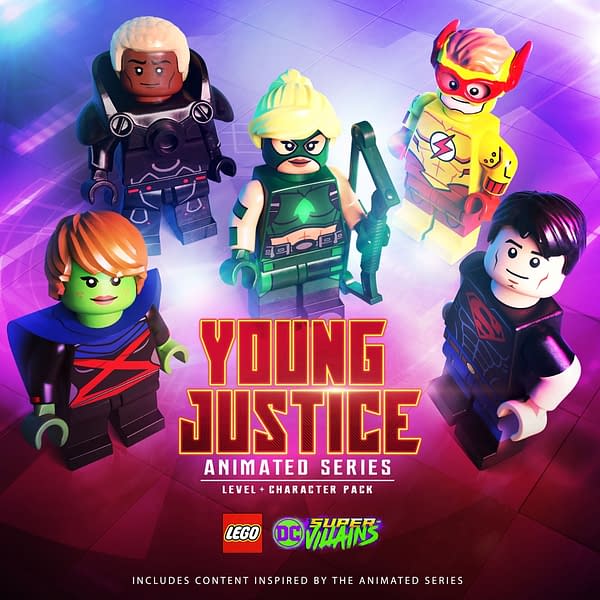 Kid Flash plays a key role in the new level and is the youthful alias of Wally West who initially adopted the name after being struck by lightning like his uncle, The Flash. Kid Flash has superhuman speed and served as a sidekick to The Flash. His first appearance was during the second season of Young Justice.

The son of villain Black Manta, Aqualad, uses his powers of hydrokinesis, super-strength, and invulnerability, alongside his ability to survive underwater. In the animated series, Aqualad helped and befriended Aquaman, who then offered Aqualad the opportunity to become his protégé and serve as a Super Hero for the Team during the first season of Young Justice.

As a master archer, Artemis (Tigress) is skilled with a compound bow and the former protégé of Super Hero, Green Arrow. She was recruited by Batman and Green Arrow to join the Team during the first season of Young Justice. Though her real name is Artemis, she also operates under a secret villain alias and appearance known as Tigress.

credit//WB Games

In the first season of the Young Justice animated series, Miss Martian runs away from her home on Mars without saying goodbye. Now on Earth, she has a strong desire to fit in with Earthlings. Upon joining the Team, she uses her abilities such as telepathy to know what those around her are thinking – sometimes to the disdain of her teammates. Miss Martian becomes the leader of 'the Team' during the series.

SuperBoy is a genomorph and a binary clone of Superman and Lex Luthor, as well as a founding member of the 'Team'. He shares both physical traits of Superman and never visibly ages due to the side effects of cloning. SuperBoy was liberated from the cloning project by Aqualad, Robin, and Kid Flash and soon joined with the young Super Heroes to convince Batman to allow them to create their own team in the first season of Young Justice.

Black Beetle is part of 'The Reach', an insectoid species of alien and ally to The Light. He has super-strength which he uses to overpower his opponents in battle. Players will be able to fight against him and unlock Black Beetle as part of the level and character pack. Black Beetle made his appearance during the second season of Young Justice.