Logitech G Reveals Adaptive Gaming Kit For Xbox Adaptive Controller
Logitech G unveiled a brand new set of accessories for the Xbox Adaptive Controller, as they are now providing the Adaptive Gaming Kit. The company released a full blog this week showing it off, including a video we have for you here to show it in action. The kit includes three small and three large buttons with gaming-grade mechanical switches. As well as four light-touch buttons, two variable trigger controls, configurable game mats with a hook and loop system, and custom labels and velcro ties. All of these are designed to help give the controller more options for people with different disabilities to play games when they can't use a standard controller. We have some quotes from the company about the kit, which is currently going for $100.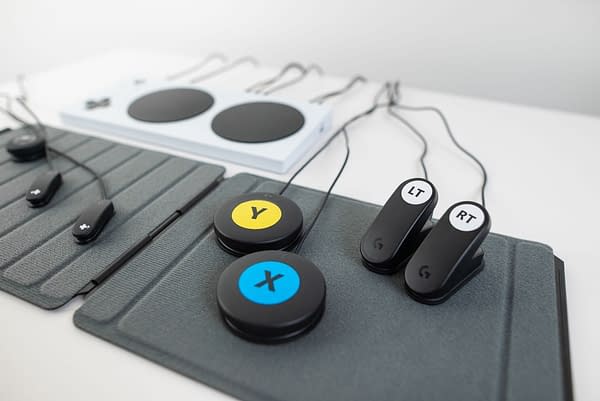 "The Logitech G Adaptive Gaming Kit is designed to be the perfect companion to the Xbox Adaptive Controller, giving gamers the necessary tools they need at a more affordable price point," said Ujesh Desai, vice president and general manager of Logitech Gaming. "It also supports our commitment to inclusivity and diversity in gaming, because fundamentally we believe that life is more fun when you play, and everyone should be able to experience the joys of play."

"The Xbox Adaptive Controller opened up gaming to people with disabilities all around the world," said Jenny Lay-Flurrie, chief accessibility officer at Microsoft. "With the addition of Logitech G's Adaptive Gaming Kit, we're excited to see that impact continue to grow. It's never been more important to design through the lens of disability and push the boundaries of what technology can do to be inclusive of everyone around the world."

"The goal of AbleGamers is to find a way for people with varying abilities to play video games," said Steve Spohn, chief operations officer at AbleGamers. "Everyone's needs are different, and the Logitech G Adaptive Gaming Kit delivers a wide range of configuration options to make gaming a possibility for all. We appreciated the opportunity to work closely with Logitech G on the design of this kit and look forward to continuing our partnership in the future."