Logitech Introduces Two New Gaming Keyboards With G915 & G815
This week, Logitech introduced players to two new gaming keyboards from their Lightech G line, with the G915 and the G815. Both of these were designed to be the top of their game for the series so far with wireless technology, new high-performance logistics, and low-profile GL Switches. You can read about both of them below as the G915 will be going for $250 and the G815 will be going for $200 on both their website and with retailers.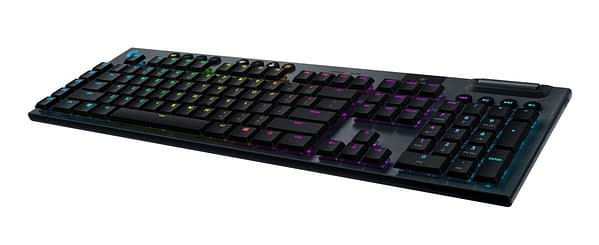 Logitech G915 Lightspeed Wireless Mechanical Gaming Keyboard

This premium keyboard features Logitech G's award-winning Lightspeed Wireless technology for a lightning fast, pro-grade 1ms report rate and up to 135 days of non-stop wireless gaming, with lighting turned off (assuming eight hours of play per day). The G915 Lightspeedalso includes five on-board programmable G-keys, putting custom macro sequences and in-app commands at your fingertips.

For the first time in the gaming industry, Logitech G is offering its next-generation Lightsync RGB lighting on a LightspeedWireless keyboard. With Lightsync, this keyboard can be personalized across approximately 16.8 million colors through Logitech G HUB Advanced Gaming Software for the most immersive RGB gaming experience. With RGB colorwave enabled, gamers can play for over 12 days on a single charge (assuming eight hours of play per day).

credit//Logitech

Logitech G815 Lightsync RGB Mechanical Gaming Keyboard

The ultra-thin, wired G815 Lightsync offers the same great style and finish of the G915 Lightspeed, with five dedicated, programmable G-keys, up to three on-board profiles and Logitech G's Lightsync RGB technology, customizable through Logitech G HUB. Additionally included is a USB cable that connects the USB 2.0 passthrough port to its own input for 100 percent power throughout.

Both the G915 Lightspeed and G815 Lightsync mechanical gaming keyboards feature Logitech G's high-performance, low-profile GL mechanical key switches that are half the height of standard mechanical key switches for 25 percent faster actuation (versus 2.0mm actuation in standard switches) and a more comfortable typing experience. Available in choice of GL Linear, GL Tactile or GL Clicky switches to match play preferences, the tactile version gives discernible actuation for gamers who prefer direct feedback, while the linear version provides a smooth keystroke. The clicky version offers a much-requested audible typing experience with tactile feedback.